Rejuvenating the robotics team
Club reflects on their past, seeks to bring members together in new year
When senior Roopa Srinivas first joined robotics, she was asked why she was dedicating so much of her time to the club. When many students think of robotics, she said, they think of a "nerdy" STEM club that consumes much of the lives of its members. However, Srinivas said robotics has given her many friendships, valuable memories and incredible opportunities.
As the club's co-mechanical lead, Srinivas said she hopes to use her perspective as a member in the previous year to improve new members' experiences in workshops and during the build season, when the robot is designed and constructed.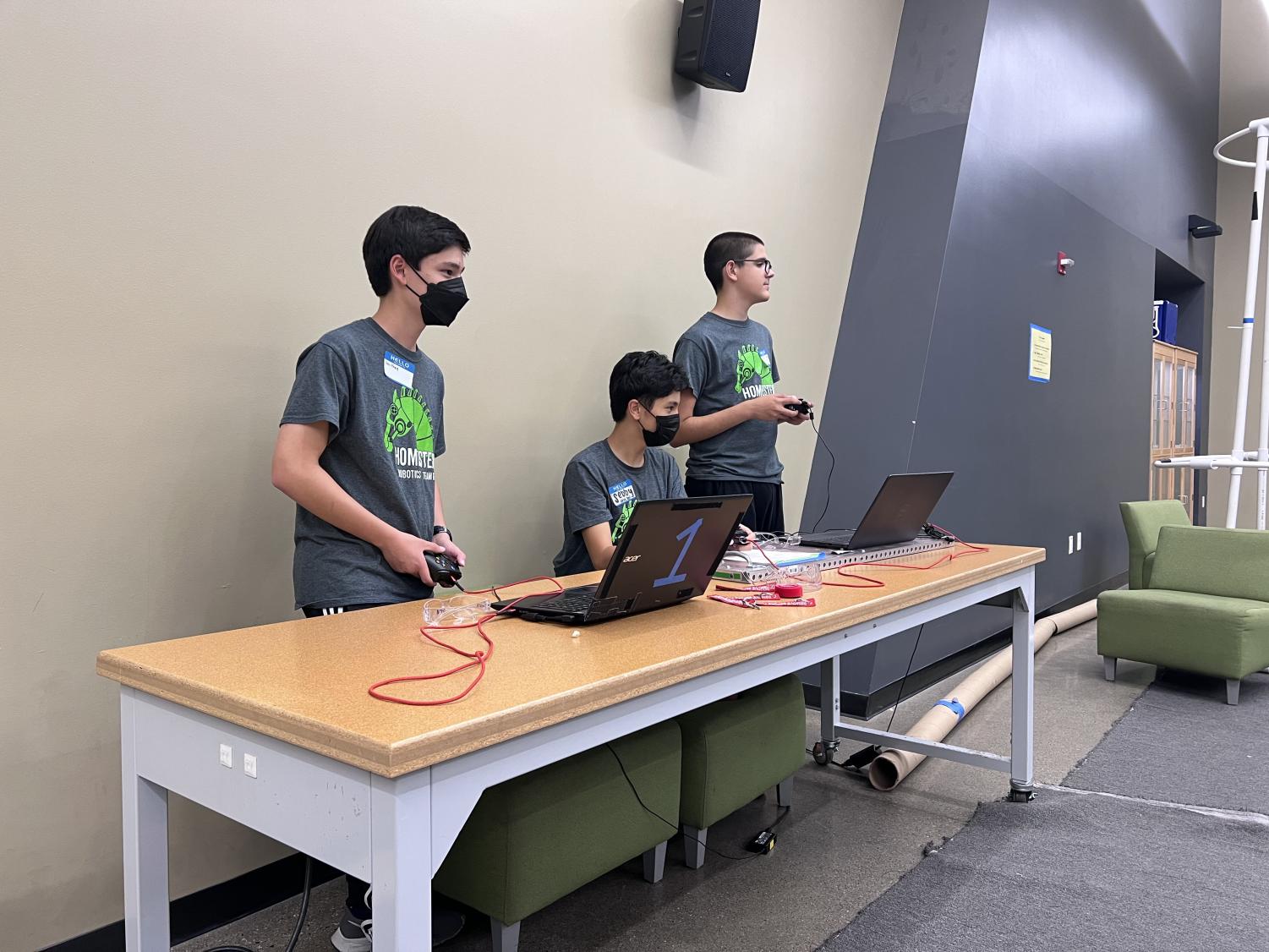 "We want to include everybody in some aspect of creating the robot," Srinivas said. "There are some people who like to help design the robot on the computer, and then there's others who really like working with their hands. Our main goal is to put everyone where they feel the most comfortable."
This flexibility allows each member to gain the knowledge they need for the build season, Srinivas said. The structure and hard work put into last year's build season resulted in successes for the team, business lead, junior Aaditya Raj said,  especially at the San Francisco regional (SFR) competition.
"At SFR, our robot defeated one of the top-ranked teams, [Mountain View High School's] Spartan Robotics, in the semifinals," Raj said. "It was one of our best moments [as a team], and we were pretty hyped afterward because it felt like all of our hard work came together."
The competition involved using the robot to launch various items into a hoop in the quickest possible time, Raj said. Electrical lead, junior Edward Lu said the team's rapid improvement in comparison to past years was due to a decision to play offensively, which earned the team a place in the semifinals.
"We hadn't gotten that far in the past five years," Srinivas said. "We also won the Quality Award, which was really an accomplishment for us because it meant our robot was the cleanest and safest ."
To build on that success, Raj said the club hopes to improve member retention by establishing a mentoring program so newcomers feel comfortable asking questions. Another of the club's goals is to increase gender diversity through events geared specifically toward underrepresented groups.
"Our officer team is already predominantly female," Raj said. "But we also want to make sure the club as a whole is as diverse as Homestead."
Along with increasing diversity, ensuring newcomers have the opportunity to do what they are interested in is an important goal for the club. Robotics involves a wide variety of activities, Srinivas said, from the building and coding of the robot to outreach and competition planning.
"If you want to try out the team, don't shy away from it because you think you won't fit in," Srinivas said. "There's something for everyone. In robotics, you'll always find someone to connect with."