It's raining cats and dogs
Recent storms impact school community, class environment
Breaking a long period of dryness, storms across California caused flood warnings for 90% of Californians in early January, prompting President Joe Biden to declare them a "major disaster," according to CNN and NPR. The downpour has impacted numerous aspects of everyday life for students and staff, including transportation and finding a place to eat. California's drought has improved, but is still ongoing, according to USA TODAY. As of Jan. 12, four of the 10 reservoirs in Silicon Valley are 100% full or nearing, according to The Mercury News.
Sophomore Ingrid Gresham is one of the many students who commute to school each day via bike. However, as a result of the rain, she began carpooling. 
"I can't drive, there's no bus near me and I live too far to walk," Gresham said. "It can be difficult for my parents to find time to take me to school and once I get [there], the traffic creates even more issues in the morning." 
Gresham said the rain makes commuting from class to class highly inconvenient. The sophomore said she is worried about slipping if she walks too fast and staying dry under the overhangs.
Freshman Vincent Wang echoes these sentiments and said he had to resort to driving instead of walking to school, as well as bringing umbrellas on a daily basis.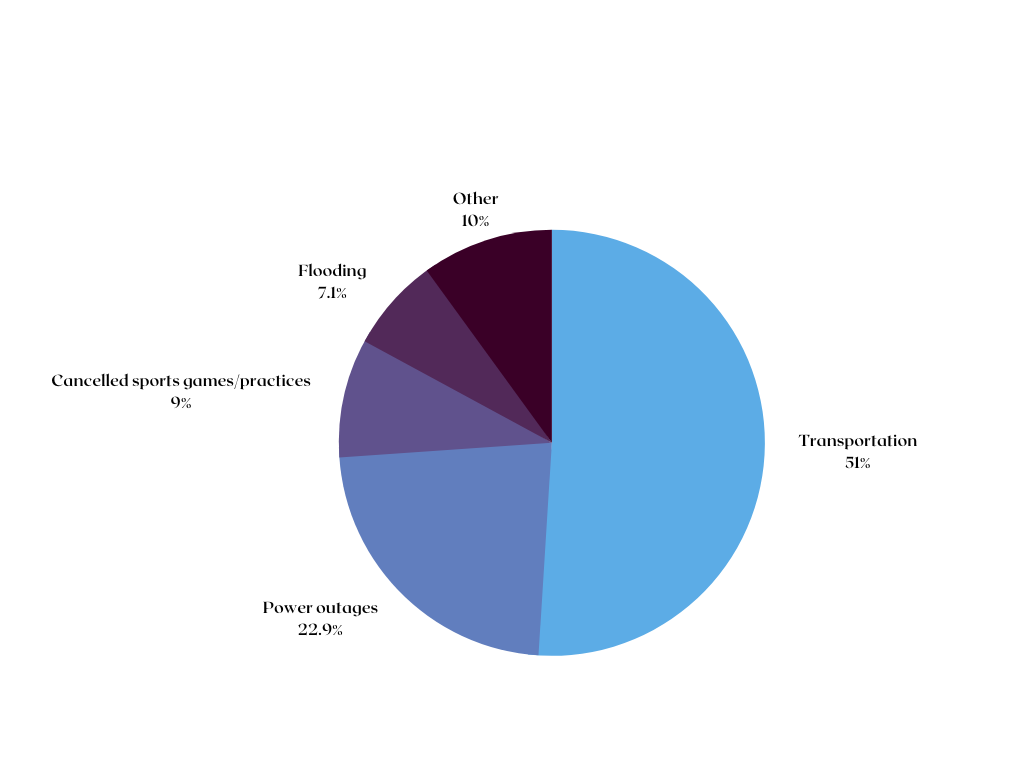 "The cafeteria was definitely a lot more crowded," Wang said. "Getting around campus was tougher, especially [because of] the rain and the wind."
Junior Abigail Cho said she experienced on-and-off power outages over the span of a day with the power initially turning off in the morning and finally turning back on at 6:30 at night. Because lighting and Wifi were unavailable, Cho said she felt like she was wasting her time and resorted to using her camera flash to carry out chores.
"I could have been doing something productive during that time," Cho said. "But I ended up not being able to do anything."
Students are not the only campus members affected by the stormy weather. Chemistry teacher Adrianne Navarro said floods on major highways have drastically increased the amount of time it takes her to commute to and from school from 45 minutes to 180 minutes. 
"It took me three hours to get home," Navarro said. "That's a lot because main roads or freeways like Highway 101 were overflooded."
Principal Greg Giglio said HHS has been fortunate to be in an environment where students are still present and learning in school.
"We're hearing horror stories of other school districts having to close schools because their classrooms are flooding," Giglio said. "Thankfully, we don't have that issue."