Always adapting, constantly improving
The girls' soccer team faces new obstacles without their seniors from last year
Even at a professional level, sports teams have to learn to adapt when their star players are absent. At HHS, the varsity girls soccer team has had firsthand experience with these challenges. 
Last year, previous senior, Dana Perry, scored the majority of goals during the season, center back, senior Jordyn Ortiz said. This year, the team struggled in the beginning and lost multiple games due to their new team conditions.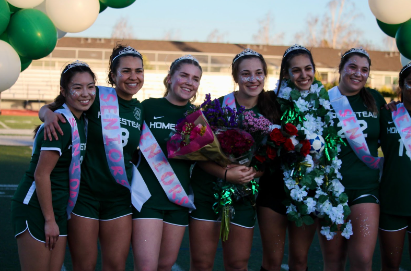 "Last year scoring was definitely dominated by seniors, but them graduating didn't necessarily have a negative impact on the team," midfielder junior Jamie Ngyuen said. "We've just adapted and found new ways to attack." 
Ortiz echoed these sentiments and said the team's biggest struggle was finishing off their games as strong as they started. Thus, most of the practices were focused on finishing and building up the score, which included various shooting, crossing and finishing drills. 
Although the girls did not have as successful of a season as the previous year, center midfielder, sophomore Giada Hu said she is still proud of how far the team has come. 
"We lost the majority of our games," Hu said. "But this season has been going pretty well because we worked well together and I feel like the score isn't reflective of how we play." 
As the athletes reflect on this season, Hu said she also looks forward to a new start and hopes to form deeper connections with her fellow teammates. 
"I think we will change in the way we play and change our style for sure [because] we will have different people coming in," Nyguen said. "We'll definitely keep growing and find ways to adapt for this year and the ones to come."