Curtains rise to highlight a life-sized house. Matty Healy, the lead singer of The 1975, walks to the couch, turns on the TV and lights a cigar. The audience is entranced: their eyes follow his every movement as Healy sits there, taking a swig of whisky and scrolling through Instagram.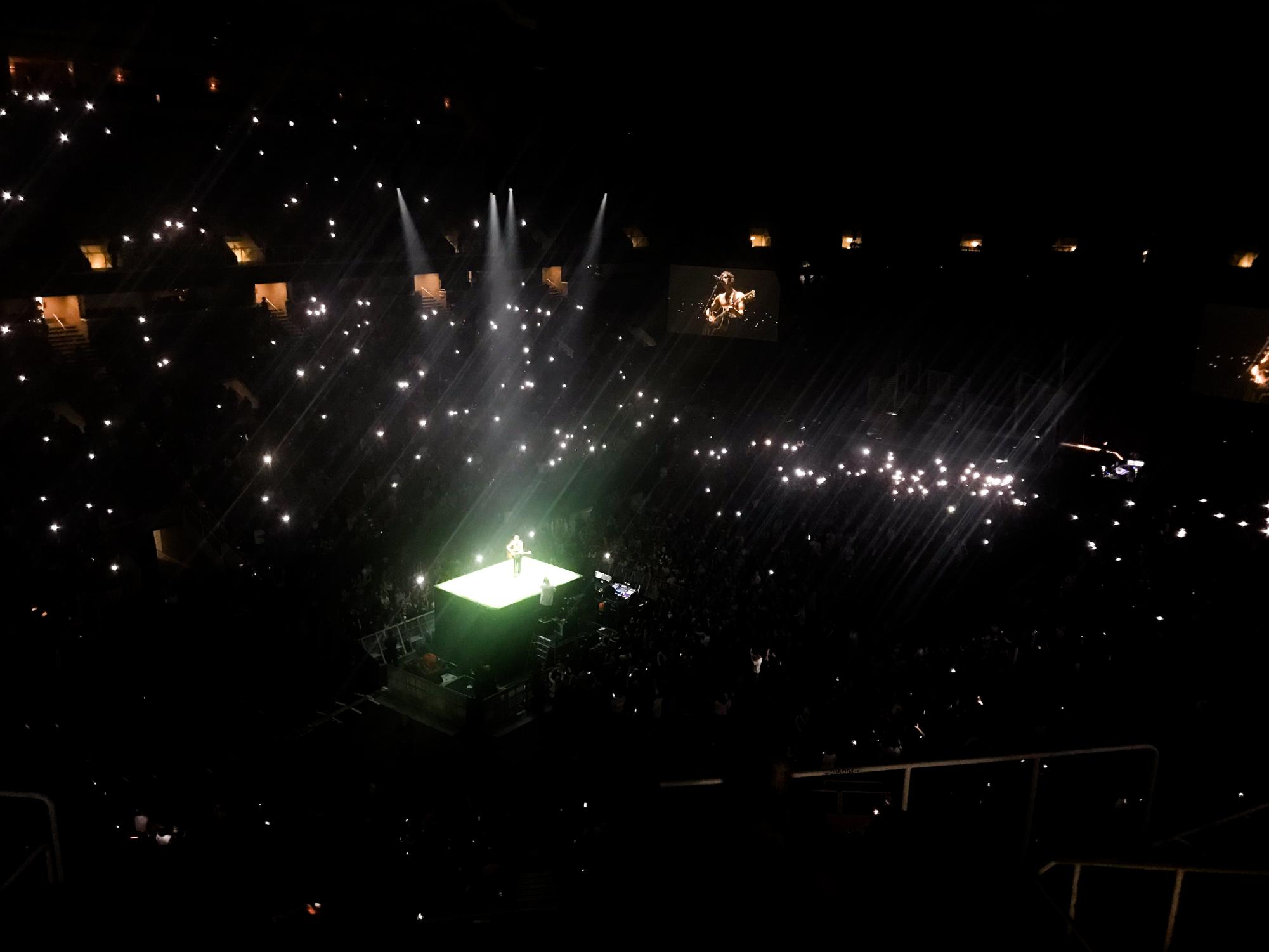 The 1975, after the success of their "At Their Very Best" tour, have made their return to the mainstage with their sequel "Still… At Their Very Best" world tour. On Thursday, The 1975 came to the SAP center as the fourth stop on their tour, filling the stadium with adoring fans.
Healy used this opportunity on stage to give a performance like never before seen, but also to tell a complex story of love, redemption and hope. 
As the concert went on, Healy's outer shell of drunk pop songs turned into a depressing and realistic look towards the future of America's youth. Healy's realistic but also satirical commentary on the youth was no better seen than when he read the audience a poem, but in order to keep their attention, played Subway Surfers clips and TikTok videos next to him.
The first part of the concert opened with pop hits like "Happiness," "Oh Caroline," "I'm In Love With You" and "Part of the Band." These songs are the epitome of dance-pop, and I was loving it. The band's talented drummer, George Daniel, demonstrates his prowess through long solos, rocking the stadium to its core.
The second segment of the show edged away from the concert feel and turned into an ingenious interpretation of Healy's America and the truth behind the American dream of struggle and redemption. 
After singing a full song drunkenly stumbling on the rooftop, Healy abruptly paused the music to show a video about redemption, displaying people coming together and having none other than Healy's voice talking about recovery in America. The video was a good shift of mood from the rest of the concert, and the message to viewers was strong, showing the audience clips of a better America with videos of people working together to build new things and save people's lives.
During the third and final segment of the concert, the energetic vibe was revived, carrying a clear message of hope. The concert concludes with the song "People," a wild rock song that's accompanied by 9/11 and forest fire videos, discussing how people have become consumed by pleasure and emphasizes the need to "wake up." 
This highlighted the importance of being present, encouraging people to be "alive" and addressing the world's problems for the next generation. The message resonated with me and made me feel hopeful for the future while helping me come to terms with the problems in this world and how we can stop them.
I deeply appreciate how The 1975 uses its influence to promote positive messages. Despite past controversies, the band remains committed to its path. Healy's infamous actions, the band's energetic and genius chaotic music and the unwavering energy of the band throughout the entire concert collectively demonstrate that The 1975 is "Still… At Their Very Best."