In the world of Paralympic swimming, a new 19-year-old sensation Anastasia Pagonis captured the hearts of many with her incredible talent and unyielding determination. Her story is not only one of athletic prowess but also of remarkable resilience and inspiration. 
Not only is she an accomplished athlete, Pagonis found success on social media platforms, specifically TikTok. She has over 2 million followers and uses her platform to raise awareness about being blind.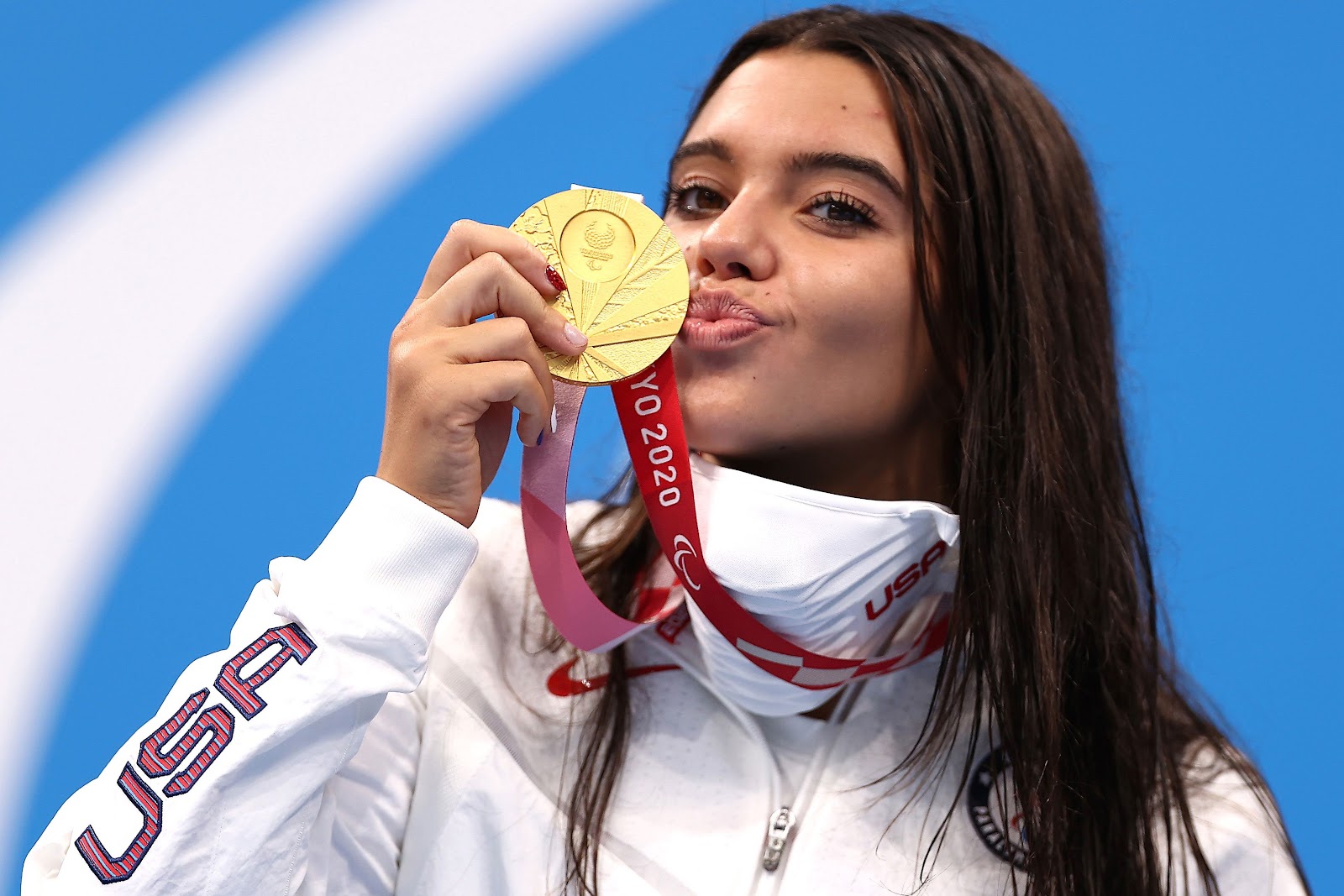 From a young age, Pagonis transitioned from soccer to becoming a Paralympic swimmer, driven by her diagnosis of Stargardt disease. It is a rare genetic eye disease that happens when fatty material builds up on the macula — the small part of the retina needed for sharp, central vision, according to the National Eye Institution. 
At the age of 14, her vision deteriorated significantly due to the disease and her doctor advised a sport with less contact, leading her to discover swimming as her newfound passion, according to NBC Olympics.
Following this sudden loss of vision, Pagonis struggled with depression and anxiety, according to KABC-TV. She found herself in a "very dark place," feeling like her life had lost its purpose. Her participation in a swimming team that was not a good fit exacerbated these challenges. However, Pagonis chose to respond to this life-altering diagnosis in an incredibly resilient and inspirational way.
Pagonis' openness about her mental health challenges highlights the significance of addressing mental well-being, a topic that many high school students, including myself, can relate to. Her courage in seeking support and sharing her experiences underscores that it is okay to reach out for help when facing personal struggles, reducing the stigma surrounding mental health.
With the unwavering support of her family and the help she needed, Pagonis decided to return to the pool.  In the summer of 2019, Pagonis found renewed hope when she joined Islanders Aquatics and began training under the guidance of coach Marc Danin, whom she describes as a lifesaver through the transformative environment that instilled motivation and structure for her to succeed, according to NBC Olympics.
Pagonis shows that no matter what age or stage in life you are at, there is hope even in the darkest moments. Her reliance on her family highlights the value of strong connections during challenging times, a lesson that resonates deeply with me as I navigate the inevitable highs and lows of life. 
Her crowning moment came at the 2020 Tokyo Paralympic Games, competing in the S11 category, reserved exclusively for athletes with no vision, Pagonis has achieved remarkable success. Pagonis secured a gold medal in the 400m freestyle, in addition to two silver medals in the 100m backstroke and the 200m individual medley respectively, according to the Paralympics. 
Beyond the pool, Pagonis has become a social media sensation and a passionate advocate for disability awareness. On TikTok, Pagonis educates her followers about Stargardt disease while inspiring others to chase their dreams through sharing with her followers about her journey, experiences and challenges, according to The Guardian.
One of her most popular and impactful videos is where she demonstrated how she brushes her teeth, a seemingly routine task that takes on profound significance when performed by someone with visual impairment. This video, with an astonishing 12 million views according to her TikTok page, fosters greater understanding and empathy among her followers. 
Her guide dog, Radar, is also a beloved co-star in many of her videos, giving viewers insight into the special bond between service animals and their owners, according to The Guardian. Through her TikTok content, Pagonis goes beyond sports and disability advocacy, offering viewers a deeper understanding of her life as a blind athlete while breaking down stereotypes and fostering a sense of empathy and connection with her audience.
As a high school student, I look up to Pagonis for working towards her dream. Her ability to transform setbacks into opportunities through her passion and resilience is a powerful reminder that I can triumph over adversity and make a positive impact on my life and the world around me.