Princess and witch friends
School for good and evil book review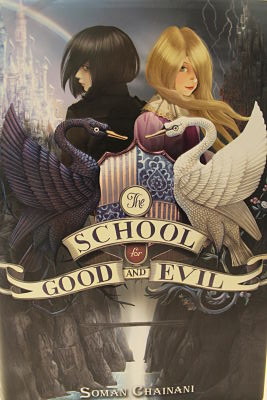 T
here are a few steps to take to become a princess or witch.
First, believe someone called the Headmaster will kidnap you. Then fly in the middle of the night on a skeleton bird. Finally, land in a field of beautiful girls and fairies and magical waves in front of the School for Good and Evil.
Soman Chainani is a lover of fairy tales, evident as the author of "The School for Good and Evil," its sequels "A World Without Princes" and "The Last Ever After." "The School for Good and Evil" has been translated into 26 different languages and is soon to be made into a film by Universal Pictures. Chainani creates a complex yet fascinating story of two friends, the beautiful princess-to-be Sophia and ugly witch-like Agatha.
Living in the Woods Beyond, every four years two children are kidnapped by a man named the Headmaster, and this year, he kidnaps Sophia and Agatha. But things go against their expectations as the two friends get misplaced, as Sophia is sent to the School for Evil and Agatha dropped into the School for Good.
Chainani's writing easily grabs the reader's attention from the first sentence. Half of the book follows Sophia, the one who believes she belongs in the School for Good. Sophia believed she was a princess-to-be, acting prim and proper while worrying about her looks. Agatha believed she was a witch, had a dark gloom about her, carried dead birds around and never smiled.
But as Sophia changes her mindset to become a witch, Chainani switches the point of view to Agatha, who slowly starts to believe she is a princess.
Chainani creates the transition in the middle of the story so naturally and in an exciting way that brings the reader along as the two girls slowly begin to accept where they belong.
As most fairy tales end with a happily ever after, Chainani brings a unique twist that is hinted towards, yet not obvious until it was revealed at the very end..
With originality and continuously exciting conflict, the "School for Good and Evil" gives every age group something new to look forward to reading again.