How to: Summer munchies
Look no further for delicious ideas to satisfy your summer hunger
Ants on a log
You probably haven't eaten this snack since kindergarten, but it is surprisingly a great bite to eat. Try this on hot day when you want a refreshing and healthy snack.

Ingredients: Celery stalks, peanut butter, raisins
Cut a piece of celery into even pieces. They should be a couple inches long each.

Put peanut butter in the celery divots.

Sprinkle raisins on top of the pieces.
Zucchini Chips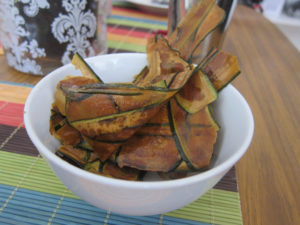 These chips are a great healthy substitute for classic potato chips. Try them when you want to eat something with a crunch!
Ingredients: Zucchini, olive oil, salt, other desired spices
Wash and dry the zucchini. Cut the zucchini into fairly thin slices.

Fill a ziploc bag with olive oil, salt and any other desired spices. Mix well together.

Place the zucchini slices in the bag and mix them around, completely covering them with the oil mix.

Soak the slices in the bag for approximately 10 minutes.

Lay out the slices on a pan and place in an oven set to 350 degrees.

Bake for about 7 minutes or until the slices appear crispy.

Remove the chips and dust with salt or other desired spices.
Nachos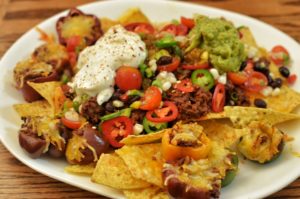 Nachos make a great snack, appetizer or meal, depending on how hungry you are. This food is super simple to make, but is also very filling.
Ingredients: Tortilla chips, desired type of cheese, desired toppings (ex. Pepper, meat, tomato, salsa, sour cream, guacamole, etc.)
    

Lay out chips on a large pan or plate and cover them with cheese.

    

Add any desired toppings that you want warm (ex. meat).

    

Place the pan or plate in the oven or microwave and heat until the cheese is melted.

    

Take the nachos out of the oven or microwave and top with desired ingredients.
Popsicles
Perfect for hanging out by the pool or for a refreshing bite to eat, popsicles are a great summer snack. This recipe is for yogurt based fruity popsicles.
Ingredients: Yogurt (flavor of choice), raspberries, strawberries, blueberries
    

Cut the fruit into small pieces.

    

Mix the fruit pieces with the yogurt in a small bowl.

    

Pour the mixture into small plastic cups and place a wooden popsicle stick upright it the cup.

    

Freeze overnight.
Frozen Grapes
Possibly the easiest and most delicious summer snack to try. These bites are great if you're in the mood for ice cream or a popsicle but want a healthier alternative.
Take the grapes off their stems and put in a bowl.

Keep the bowl in the freezer overnight or for several hours.