Know It All
Alessia Cara continues on her United States Know It All Tour: Part ll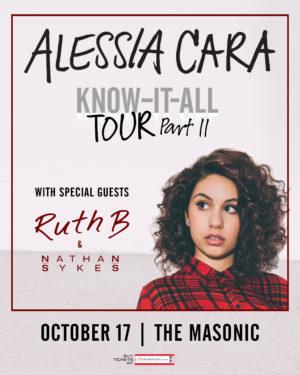 A
lessia Cara is a 20 year old Canadian pop and R&B artist from Brampton, Ontario. The singer and songwriter recently released her debut album, "Know It All" on November 13, 2015 following her EP "Four Pink Walls" that same year.
With tracks like "Four Pink Walls," "Wild Things" and most popularly "Here," it is not surprising that her music has been so successful and why she is so up-and-coming.
Due to her growing popularity, Cara recently received recognition from various artists. She was among the four main opening acts for Coldplay during their "A Head Full of Dreams" tour, collaborated with G-Eazy and lended her vocals to the remake of Troye Sivan's single, "Wild".
This past January, Cara kicked off the first leg of her "Know It All" tour in Canada. The second part of her North American tour began in late September and is to end this November.
On Oct. 17, Cara was well received at The Masonic, a well established San Francisco music hall. Two acts performed prior to Cara, Nathan Sykes opened the show with Ruth B following shortly after.
The Masonic's mid-century modernist architecture provided a personal and intimate setting.
Her show attracted a diverse group of individuals. The crowd consisted of people of all ages. So, it goes to show, no matter how old someone is Cara's music can relate to anyone.
The energy in the room was undoubtedly enthusiastic, and it stayed consistent throughout the opening acts and Cara's performance.
She first performed a couple of fan favorites including "Wild Ones," "Outlaws" and "I'm Yours." Cara then slowed it down with "Stars," "River Of Tears" and "Scars To Your Beautiful," which are all ballads that portray her views on love, relationships and self worth. She occasionally took breaks to touch briefly on her humble beginnings, opinions on the social construct or personal experiences that inspired her to write her songs.
Cara closed the show by thanking her fans for the support they've given to her and her music. As first impressions go, her opinionated and slightly quirky personality mixed with her storytelling music will continue to grasp people's attention in the most notable of ways.