Figure skating stars to visit SAP center
Two teenage champions among lineup
Next month some of the best skaters in the country will meet in San Jose for Stars on Ice, a tour including some of America's brightest prospects for the 2018 Olympics in Pyeongchang, South Korea. Nathan Chen and Karen Chen, no relation, are some of the highlights of the tour.
Nathan has set the bar for men's figure skating in America. He won the gold at the Four Continents Championship, an international figure skating competition where he beat 2014 Olympic champion Yuzuru Hanyu. Nathan landed five quadruples, in which a skater does four revolutions in the air before landing, during his long program. He is the first skater ever to do so, according to NBC Sports.
The kicker: Nathan is only 17.
After placing sixth in the World Figure Skating Championship earlier this month in Helsinki, Finland, Nathan has become one of the most recognizable figure skaters in the country. He failed to land all six quadruples he planned for his long program, but his attempt has set the stage for his Olympic debut.
While his short and long programs consist of the typical ballet and classical music, his exhibition piece to "Stole the Show" by Kygo highlights his youth and talent.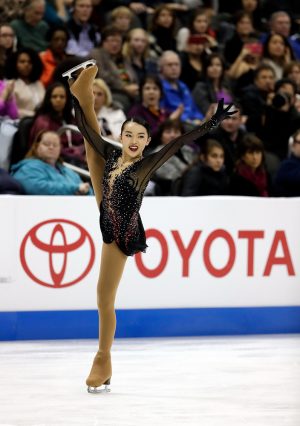 Karen has become a star of her own right. Also 17, Karen won the U.S. Figure Skating Championship in Feb. in Kansas City. She learned to skate on Sharks Ice in Fremont, according to her official website. Earlier in Mar. she placed fourth in the World Championship and is set to compete in the Olympics.
In her long program during the World Championships, Karen landed six triples, in which a skater does three revolutions in the air before landing. Her performance helped secure three Olympic spots for U.S. women skaters.
Ashley Wagner, a three time U.S. champion who came second in the World Championship in 2016, will be joining both Nathan and Karen in San Jose as she prepares for the Olympics. Two-time U.S. Champion Gracie Gold, U.S. Ice Dance Champions and two-time World Championship medalists Meryl Davis and Charlie White and more of the biggest names in U.S. figure skating will be skating in the event as well.
Stars on Ice will take place on May 12 at the SAP Center in San Jose. Tickets start at $27 and can be bought on the tour's website, www.starsonice.com.