ASL aims to amplify awareness
Club teachings reach beyond Homestead High School
The third most used language in the US is sign language, according to Senior Avani Modak, American Sign Language (ASL) Club president. It's one of the many fun facts she has picked up from being part of the club since freshman year.
ASL Club teaches sign language to members and provides many opportunities for involvement with the deaf community.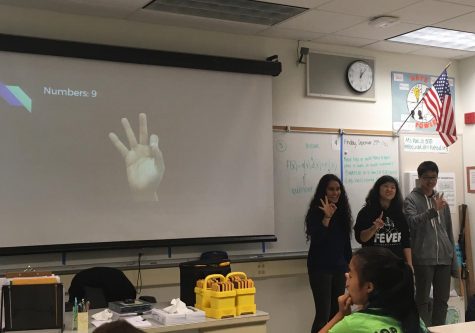 "We just want to expose people to the language and make them more interested in it," said Modak. "We think that it's a part of American culture that's been ignored in the past, so bringing this really big language to the forefront is our goal."
ASL secretary Celine Yiu agrees with this message. "It's really important to be able to reach out to people of all sorts of backgrounds, especially people with certain disabilities, like people who are deaf," Yiu said.
The club aims to bring more awareness, educate on ASL and the deaf community by introducing members to the language in a fun way. ASL Club is hosting movie socials where members can bond over a film in sign language while eating pizza and hanging out. Another upcoming event in April is Deaf Week where ASL Club will have booths and speakers in the quad to educate HHS about ASL and deaf issues.
The officers feel it is important to be more inclusive  to unite the deaf community with the rest of the hearing world.
"You hear these stories of people who feel like they're by themselves and like they can't communicate with anyone." Yiu said. "And then one other person knows sign language and they feel like they're listened to. We want to make more people feel heard."
Along with teaching sign language to new members, ASL Club wants to organize a field trip to a nearby deaf school in Fremont, the California School for the Deaf. Modak, who has taken sign language classes at De Anza College, wants to show the importance of interacting with those whose native language is ASL.
"I think just being exposed to a whole new set of people [is the best part of learning sign language]. Modak said. "I've met so many people that I wouldn't have been able to meet otherwise because I wouldn't have spoken their language."