Club spotlight: Mock Trial
This competition club is suiting up for a fun year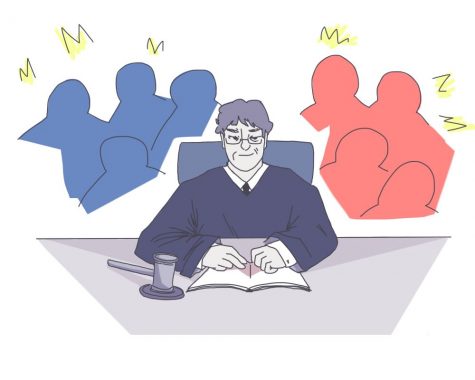 Mock Trial is one of the many clubs around campus that competes at conventions. The team is given a case and prepare arguments for their side with their attorneys and witnesses in time for competition season. This rigorous club helps aspiring lawyers get a little taste of what a future in law may hold. This year, the case in question is a murder trial revolving around liberals versus conservatives.   
Tryouts are held in the beginning of the year and students that seem best fit for the team are recruited. The Mock Trial team is a very committed and motivated group of students, Mock Trial Adviser Susan Wilson said.
The team works for six months on one controversial case, such as the murder trial this year. This murder occurred in an immigration rally involving the protection of hate speech, a current problem in the world today.
The team devotes over three hours a week on Fridays until February when competition season begins.
During these weekly meetings, students are trained by attorney coaches who help prepare each student for the upcoming scrimmages and competitions. The main competition the Mock Trial attends is in the San Jose Superior Court, which is held mid-January this year.
Wilson said the whole experience for the team is very similar to what happens inside a real courtroom.   
"In a real courtroom with a real judge … real lawyers score the kids on everything from public speaking, how they raise objects to how believable our witnesses are [and] if we are dressed in proper courtroom attire," Wilson said.
Mock Trial is more than just a basic competition club, it is a group of determined students hoping to learn and help others. These students have been working very hard and will hopefully bring a win to HHS.