The Garlick Press: Greener student driving
The student parking lot is always packed in the morning, with different types of vehicles: trucks, Mini Coopers and family SUVs. For families who are planning on getting a new car for their driving student, an electric car for simple commutes sounds ideal. One problem, however, is where to charge.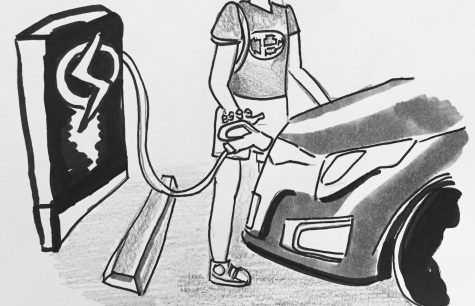 That issue is going to be solved in a year. After construction for the new F building finishes, charging stations for both students and admin will be installed near the student parking lot.
Tara Grande, FUHSD facilities coordinator, is working on a joint project with Charge! Program to implement the new charging station plan.
"At Homestead, [where] we are looking to put [charging stations] is actually between the student lot and the access road," Grande said.
In this way, the charging stations can be used by both administration, students and for the public after school hours.
Making charging stations available for students will benefit the campus by allowing families with electric vehicles to utilize the opportunity for a green and cost-effective commute. A newer option for charging stations will also allow prospective students to consider buying an electric vehicle as their first car.
Some college campuses have already taken this opportunity and put electric chargers into effect. Pomona College has 55 plug-in stations available for 1,500 students, installing it's first six charging stations in 2011 according to a case study conducted by the EPA. Each station cost $6,000, and drivers pay $1.25 and admin get a discounted price at $0.15 per kWh.
Mountain View and Los Altos are also installing charging stations on their campus, according to Mercury News. Admin will be able to charge their electric vehicles at 240 volts for just a small fee. This strategy ultimately helps teachers with long commutes and who wish to use their electric cars to get to work.
Having an electricity-powered car can be more cost-effective than a classic gasoline-fueled vehicle. The California Clean Vehicle Rebate Project administered by CSE for the California Air Resources Board has raised incentives for lower-income households while capping eligibility for higher-income consumers, encouraging a solution to the divide created by financial differences.
When it comes to the cost-benefit analysis in terms of pollution, going electric is an excellent option to reduce greenhouse emissions.
According to a study by the Union of Concerned Scientists found the emissions produced by an electric vehicle are less than the emissions of an average compact conventional vehicle, no matter the location of where the vehicle is used.
Our campus is green, and should also not just be green because of our colors. These new charging stations will benefit the staff and students and will encourage a greener commute.
The HHS charging stations will be implemented after the construction of the new F building, and soon, individuals with electric vehicles will have a place to plug in.
If you are looking for green options, resources such as DriveClean can help individuals find a valuable and affordable electric car that will benefit your family.