J unior Jane Andrews has recently started a new club off-campus called DiversiTea. The club was created to address how books today should be more diverse.
DiversiTea is a book club that meets in the Cupertino public library and is open for all to join. It is not affiliated with the school, Andrews said.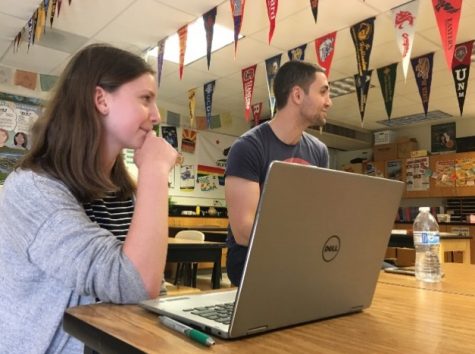 At the first meeting, they had tea and snacks while reading and discussing what they read. So far, they have read "Boy Meets Boy" by David Levithan. They plan on reading "Simon vs the Homo Sapiens Agenda" by Becky Albertalli and watching the corresponding "Love Simon" movie, junior Isabel Serrato, a member of the club, said.
The club mainly focuses on reading diverse books, discussing exactly what makes that book diverse and how they feel about it, Andrews said.
"[A diverse book] is a book that is written about characters that stray away from the norm in some way. The norm that we established for ourselves being a neurotypical, heterosexual, cis white male," Andrews said.
Librarian Amity Bateman said she is excited about the creation of DiversiTea and further discussion of the topic.
"There are a lot of great young adult books coming out written by … people coming from a lot of different backgrounds," Bateman said. "And that hasn't been the case in the past. Even when there were diverse characters, they were often written by straight white people who were kind of imagining an experience and not pulling off of authentic experiences."
The club sees diversity in books as significant because society is diverse and everyone should be represented, Andrews said.
"I think that if we only read books about people like us, we think that is everyone's experience. If we never ever see people like us represented in literature, and this is important in entertainment too … then we think that our experience is obscure and that it's so not mainstream that it's not even worthy of being represented," Bateman said.
However, DiversiTea also sees diverse books as a way to expand one's perspective on things.
"If you're in a friend group of all similar people, you only know what you know. But then you read a book that expands your worldview. It's important to know what's out there. Whether it's a diverse book in a racial diversity way or LGBTQ+ stuff, it just allows you to understand more people," Serrato said.
Additionally, Bateman said she feels that books should share how a community actually is in real life. Stories should unfold where these differences are just differences between personal backgrounds and not the problem, Bateman said
In the end, DiversiTea believes that characters should be portrayed as they are in real life. If they are based off of stereotypes, then they are not diverse, Andrews said.
"We talk about, 'hey this book had a black character. Was the black character portrayed well, was this offensive, was this stereotypical?' And that's something that needs to be evaluated," Andrews said.