Fwd:Love spreads positivity before finals
With finals week approaching, fwd:Love continued their semi-annual event, Bags of Love, in which officers pass out care packages filled with stress relief items such as candy and bubbles to students.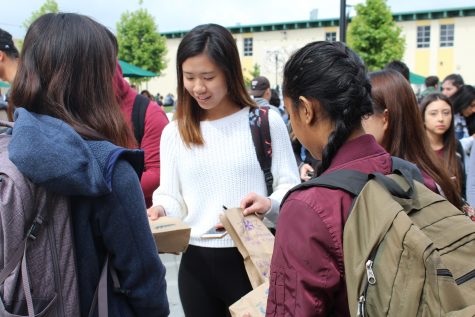 Fwd:Love has noticed how stressful finals week can be and uses this event to help their peers cope with the pressures of school, sophomore and fwd:Love treasurer Joyce Jeon said.
This event enforces the club's goal of spreading positivity around campus. Bags of Love has proven to be successful in this aspect, according Jeon.
"Whenever I give them out, they always have smiles on their faces," Jeon said. "So I think that it gives them a temporary stress relief."
Bags of Love is especially geared towards freshmen since they are still growing accustomed to taking finals, senior and fwd:Love president Jingwen Li said.
Sophomore Minal Singh believes the event is a nice act of kindness and a great way for students to destress.
"Besides the content in the bag, it's nice that you know there is a club that thinks about people on campus this way and cares about them so I think it's a really thoughtful thing," Singh said.
Li hopes more people will recognize the unique aspects of fwd:love next year. Events such as Bags of Love encourage students to spread positivity and love together, especially during stressful periods of the school year, Li said.  
"No matter what you get on your final, you are still loved and there's nothing wrong with it. You'll do fine in the end," Li said.