The Class of 2018 Commencement Ceremony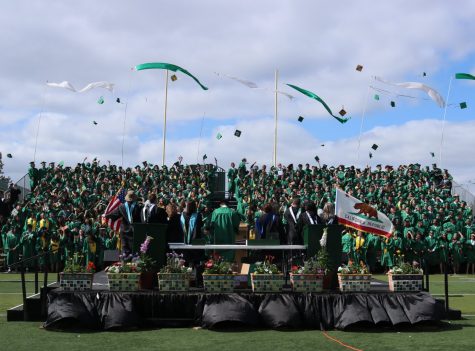 "If you're sick and tired of the world, turn around and lead it!"
After four years of hard work and determination, the class of 2018 graduated this Thursday, May 31. Over 600 students in attendance received their diplomas. Congratulations, class of 2018!
Senior Class President Jacob Jiao delivered a welcome speech, and class officers Brandon Hong and Lindsay Takahashi introduced the Honor Guard. Senior officers Venkata Muriki and George Wen announced the class gift, which included a new sound system and a decibel meter for class cheer-offs.
Graduating with the class, teacher Liz Williams was chosen as the staff commencement speaker.
Students then received their diplomas from Associate Superintendent Christine Mallery and Board of Trustees Jeff Moe. After turning their tassels and walking off the field, graduating students took pictures with friends and family and were treated to a reception with lemonade and cookies in the quad.