New to the neighborhood: Special Education paraprofessional Noelle Mason-Wood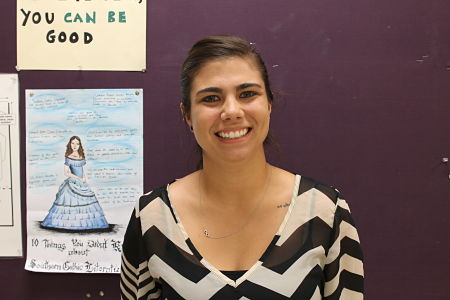 Noelle Mason-Wood is one of the new special education paraprofessionals this year. It is not her first time on campus, as last year she served as an intern for the technology department, and she attended school here as well.
"I'm excited just to see the success my students have, and the changes they make," Mason-Wood said, "both within, academically, and socially as a whole."
As a special education paraprofessional, Mason-Wood said she enjoys building relationships with her group of students and learning from their life experiences, which she describes as sometimes broader than what she has experienced herself.
Outside of working with students, Mason-Wood said she enjoys playing and coaching field hockey. She also enjoys spending time in nature and gaining new experiences for herself.
"I just like to go out and be outside and go on hikes and kind of just experience new things I haven't seen before or done before," Mason-Wood said.
When asked about tips for high school students, Mason-Wood had several pieces of advice.
"I would say my biggest tip is to just be in communication with your teachers and advocate for yourself and what you need," Mason-Wood said. "The staff at Homestead is very accommodating and helpful if you are willing to ask for it and explain your circumstances."