Cultural, religious clubs create sense of community
Clubs provide students with a way to meet new people through shared interest. Through their nature, clubs create a sense of community among members. For many students, this sense of community is one of the draws of clubs.
Junior Lior Kishinevsky's membership in the French National Honor Society was primarily prompted by his interest in French culture.
"I had a passion for French," Kishinevsky, who took French, said. "[But] there was almost no one I knew before in the club."
FNHS is an organization where students can learn more about French culture outside of just taking a French class. This aspect of the club draws in many students who may already be taking the language but still want to gain a greater understanding of the culture.
This is also what drew in Kishinevsky, who said that despite not knowing anyone originally, he joined the club and ended up meeting a number of new people through FNHS. He is now an officer after joining the club for the second year.
"We are trying to unify people by bringing them together and celebrating the French holiday, French traditions," Kishinevsky said. "We have crepe socials and cheese socials which create a really fun environment."
Although he personally joined FNHS without knowing anyone, he recommends meeting there with friends, Kishinevsky said.
"There's people that go there and sometimes they already have friends there, or, if they don't, they could interact with other people and just have a good time," Kishinevsky said,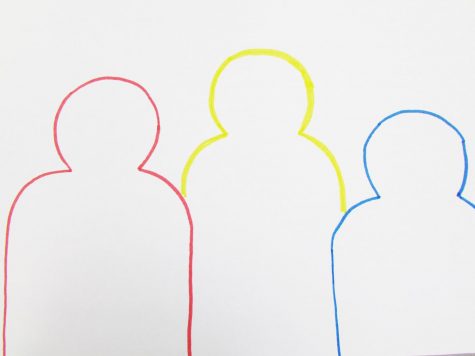 "[though] it's a lot easier to go with a friend and have someone there to be a part of it with."
Junior Hanna Lee, a member of the Footprints Christian club, said that, like French club, Footprints members are unified under a common interest.
"[Footprints is composed of] Christians, but also non-Christians," Lee said. "We just come to talk about Jesus … a big sense of community [is created around] Christianity."
Lee said Footprints puts a heavy emphasis on the idea of joining together under their shared interest in the Christian faith and encourages members to learn more about Christianity as well as each other.
"Community is a very important aspect," Lee said. "It's just a lot of love and a sense of vulnerability and is just super open … The reason why we are so bound together, the one thing that binds us together, is Jesus."
Many other clubs also seek to embody an idea this idea of unity, such as the Japanese National Honor Society, of which junior Timothy Pham is a member. Similarly to French Club, JNHS is an organization where students who want to learn more about Japanese culture outside of the language classroom.
However, unlike Kishinevsky, Pham was introduced to the club through other people rather than purely through an interest in the club's culture.
"What made me originally want to join the club was an upperclassman who convinced me while I was a freshman," Pham said. "He was a really enthusiastic guy so it was like, 'Oh, this might be interesting.'"
Additionally to providing a place for groups to interact over a shared interest in Japanese culture, the club promotes student socializing through its use of concepts used in Japanese classrooms.
"What we really try to embody … is how a Japanese class is run," Pham said. "It is [based around] unity … in the Japanese class, they always emphasize unity and respect for each other."
Pham said joining JNHS has allowed him to meet entirely new people and learn more about the culture he is interested in with them.
"It feels like a club that I belong to," Pham said. "[JNHS has] given me something to belong to at Homestead."