Major Works Concert resonates beautifully
Choir and orchestra united in performance
As the year comes to a close, the music department showed off their months of hard work in the combined Major Works Concert. On April 24, Men's Choir, Advanced Treble Choir and Chamber Choir came together with orchestra for a stunning performance.  
Months ahead of the concert date, the preparation was already underway. The different choirs along with orchestra practiced their individual parts separately during their class periods.
The Major Works Concert is the only time a year where choir and orchestra gets to perform as one ensemble.
"I was really looking forward to the orchestra and the choir, all of the choirs, combining because that's what makes the Major Works concert special. We only do a couple big pieces where the orchestra plays and all the choirs get to participate," sophomore choir member Emily Blake said.
The concert started off with all the different choirs combined up on stage without the orchestra. According to the concert program, all together they sang "Java Jive" by Ben Oakland, "Over the Rainbow" by Harold Arlen and "Sing" by Pentatonix.
After the choirs sang their pieces, they switched with orchestra. Headed by junior concertmaster Sabrina Kim, they played two parts of Edward Elgar's "Serenade for String Orchestra", as well as Astor Piazzolla's "Fuga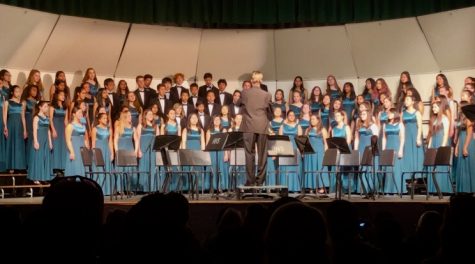 y Mistero".
For the last portion of the concert, the choirs rejoined orchestra on stage for the major works production. According to the concert program, together they performed four parts of Franz Schubert's "Mass in G". This required the choirs to sing in Latin as the orchestra played the pieces.
"Major works can be really hard to learn sometimes, especially with the different words and pronunciations and translations in another language. But sometimes Major Works can be very poetic and fun to sing," said Blake.
In three out of the four parts from "Mass in G", the ensemble featured several choir soloists and small groups. According to the concert program, II Gloria featured senior Jalen Chan, senior Gianna Gonzales, senior Jake Pageler, junior Katie Rizkalla, senior Ava Sanders, and senior Nathaniel Wright. Vi Agnus Dei also featured Gonzales and Rizkalla, as well as senior Trina Chou. Junior Ellie Paek was the only soloist in I Kyrie.
At the end of the night, the audience burst into applause for another successful concert. For those who are not seniors, the Major Works concert is an event to look forward to doing again in the next years to come, Blake said.