FNHS thriving after 14 years
According to Rutgers University, an estimated one in five Americans speak French. That's why it's no surprise that the French National Honors Society (FNHS) has existed and thrived for more than 14 years.
"FNHS is so much more than your average French club," junior and FNHS public relations officer Jocelyn Pytel said. "It's a place where you can immerse yourself in a different culture and totally forget what country you are in."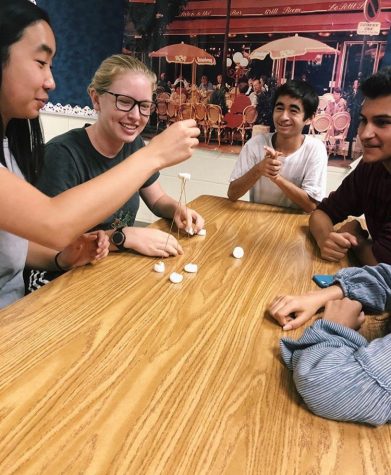 Having the chance to learn how to pronounce fun accents and sounds, along with learning about French roots and history, are some of the many reasons why students choose to join the club.
FNHS plays an important role in the diversity of our campus. Senior and FNHS club president Tara Joseph believes FNHS reveals a new aspect of what is typically learned in a language class and allows members to expand their knowledge of a language other than English.
 "I think all the cultural clubs on campus are really important," Joseph said. "They give people the chance to immerse themselves in diverse cultures from around the world."
Joseph, who joined her freshman year, said she has made many friends from FNHS and has also improved her French.
Along with putting on several events and activities throughout the year, FNHS provides an extremely welcoming environment for anyone who wants to join, senior and treasurer Rochelle Nixon said. 
"Sometimes, students feel as though they can't be a part of it due to them not being in a French class, but that's not the case at all," Nixon said. "If a student is at all interested in being in the club, we welcome them to join and come to our weekly events."