CCS Game plan: girls volleyball hopes to improve passing, communication
The girls volleyball team stands in anticipation as their teammates are engaged in a heated match against Presentation High School. As senior Krista Colen dives to save the ball, the team erupts in roars and cheers.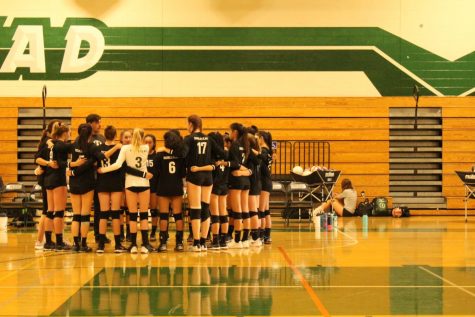 The girls volleyball team hopes to head to CCS this year by honing in on certain aspects of the game to improve on, Colen said, adding that she hopes to build on the team's passing and setting skills, in addition to team communication as a whole. 
"We want to improve working together as a team to play well and rely on each other," Colen said. 
Varsity captain junior Indy De Smet said she agrees, and believes they need to develop relationships between team members.
"We have a lot of new people on the team this year, so I think what we really need to improve on is connecting when we play and knowing exactly what every person is supposed to do," De Smet said. 
To do so, the girls volleyball team plays various games together, De Smet said, and also plans cheers and hypes before matches.
In anticipation of CCS, the team hopes to keep their strong serving game going throughout the season, and keep their motivation high, varsity captain senior Sara Olsson said. 
The varsity coach, Gary Caroll, is an integral part of the team as well, and has many years of experience, De Smet said.
"Our coach is a really important part of the team … he's been coaching the team for a really long time," De Smet said. "All the girls know him really well and he has a way with the girls … he takes us all to dinner and does all the stuff for the girls."
Seniors Colen and Olsson both said they are looking forward to senior night this season, an annual event hosted by the team for the graduating seniors. In addition to serving as a farewell to the seniors, it illustrates the depth of the team's bond with each other. 
"Being on the team is such a great experience because you get to be with people who have done the same things their entire life," Colen said. "I feel that we are just real with each other and tell each other anything we want … nothing's off limits."