CCS Playoffs conclude field hockey's season with score 2-0, Mitty winning
Team curtails losses through energetic teamwork
Girls varsity field hockey recently made CCS, an accomplishment that has brought much excitement to the team.
"[Advancing to CCS] is great — I think everyone is really psyched and pumped," varsity coach Donna Keith said. "Everybody has worked really hard. They're a great team."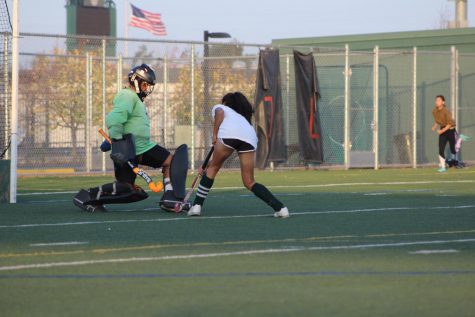 Aside from CCS, the team has had many other achievements, as well. For Keith, a match at Saratoga High School, where the team won with a score of 2-0 was a big highlight.
Seniors Sarina Singh, who plays right forward, and Lindsey Skidmore, who plays center forward, were instrumental in the victory.
"It was a night game and it was just a totally different experience. Everyone had a lot of hype and was really excited to play," Singh said. "There was an incredible amount of energy at that game — both from the players on the bench and the players in the game." 
Not only was the atmosphere at the game lively and energetic, but their win was also a pleasant surprise, Skidmore said.
"We went into the [Saratoga] game thinking we'd lose because they're number one in our league, but we actually came out and won," Skidmore said. 
For senior left forward and team captain Aria Badra, the team's game at LHS was her favorite of the season.
It was there that the team also exceeded their own expectations, with sophomore Sehej Shoker winning the first goal, followed by two more goals scored by Badra. They won 3-0.
"We had a comeback there," Badra said. "We were down and we came back and ended up dominating."
In addition, the strength of their games is reflected in the team and their interactions, Keith said. 
"They actually like each other and like to talk [and] hang out — we've got good teamwork," Keith said. "I'm really proud of what they've accomplished."