Girls basketball celebrates Senior Night, defeats Mountain View
Seniors reflect on their basketball journey
One at a time, the three seniors on the girls basketball team walked across the large gym with their families amid thunderous cheering from the bleachers as friends and supporters waved posters and printed cutouts of their faces.
After presenting the seniors, varsity coach Becky Chiu asked the crowd if they could see that girls basketball was not just a team, but a family. There was no doubt to the answer.
Girls basketball played against Mountain View High School for their final home game on Feb. 11. During the break between the JV and varsity games, they held their Senior Night celebration, honoring seniors Isabel Sathy, Shannon Siu and Kendra Wong.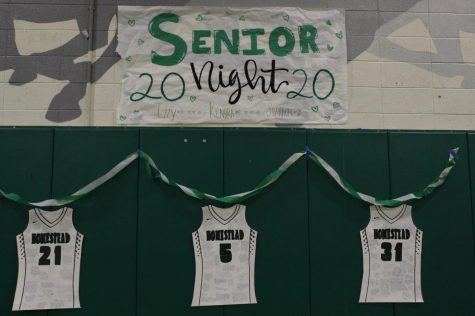 Joined by their family members, each senior walked to the center of the gym, where they were handed a bouquet of flowers and listened with huge smiles as coaches and teammates delivered personal speeches thanking them for their contributions to the team.
The energy and excitement continued throughout the night as the girls varsity team held a consistent lead through all four quarters to win against Mountain View with a final score of 56-42, bringing their conference record to 10-0 and their overall record to 19-1.
With only one league game and CCS playoffs remaining in the season, the seniors' HHS basketball journey is drawing to a close.
"I'm going to miss the community we have," Sathy said. "[We] have practices for two to two and a half hours each day, so [we] become close over the course of the season."
Meanwhile, Wong said she has been playing basketball since she was in kindergarten and can't imagine what her life would be like without the lessons it has taught her.
"I can't see myself not playing it, so it's taught me a lot. Being on a sports team in general teaches you how to work as a team and [about] mental toughness," Wong said.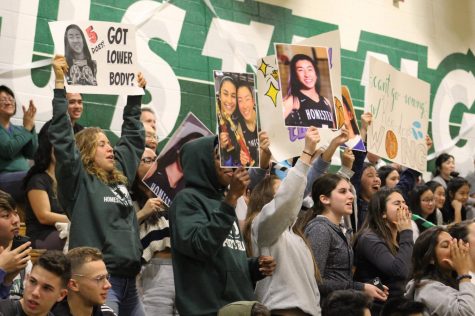 Siu said she appreciates the bonds she has formed with teammates and the result of those relationships.
"I think the friendships [I've formed] have helped me a lot with everything in my life, and I've become a better communicator," Siu said.
The players said they felt emotional during Senior Night because it marked the culmination of their time on the basketball team. Siu and Wong claimed Senior Night as their new favorite basketball memory, and Wong said she felt nostalgic.
Sathy said her favorite memory was the first round of the playoffs last season, because the team played well and that was a moment when the team truly came together.
As juniors, Jeanna Yi and Katie Yasuda were part of the Senior Night planning and organization. Though they said it was stressful, they had fun filming a rap parody music video for the seniors. They also decided what gifts to give and gave speeches during Senior Night.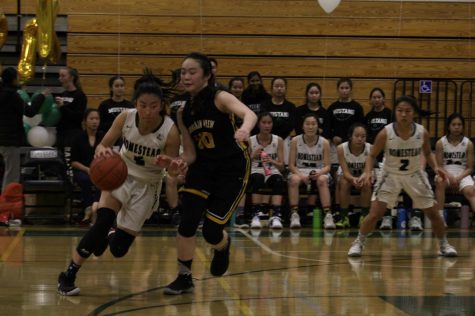 Yi said one of the reasons the team works so well with each other is due to the seniors' leadership.
"We all look up to them, and they lead by good example. They're always so nice and encouraging," Yi said.
Each senior contributed to the team in their own unique way, Yi said.
"Izzy pushes you really hard to be the best player you can be [by giving] you advice," Yi said. "With Shannon, she was really approachable. I was never afraid to ask questions and mess around with her. Kendra gives really good advice and she jokes around a lot. She instructs us, but it comes from a good place. I don't feel bad when she tells me I'm doing something wrong."
Yasuda said they all created a nurturing team environment where everyone was comfortable learning from each other and growing. Yi said she shares a sisterly dynamic with her teammates.
"It's nice because even off the court, we're a team. If we see them, we'll say hi," Yi said.
Beyond high school, Wong will play basketball for Carnegie Mellon University. Sathy has committed to play soccer for Wellesley College and also potentially basketball. Although she will not pursue basketball on a sports team, Siu said she hopes to join an intramural team in college.