ELD department helps students overcome language barriers
Programs teach students language skills, boosts confidence
While HHS offers a myriad of classes, there is one thing they all have in common: they require a mastery of the English language. However, not all students are fluent in English. To solve this, the English Language Development (ELD) department on campus works to assist English learners (ELs) both academically and socially.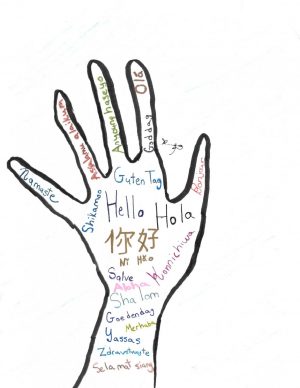 ELD algebra teacher Erik Eastland said several difficulties arise in social interactions when speaking a different language.
"It's hard to make friends and build relationships when there's a large communication barrier," Eastland said. 
The goal of the course, he said, is to not only help students gain confidence in their language skills, but to also teach students the curriculum at a pace they are comfortable with.
"By the time students finish [the course], not only do they learn about chemistry, but they pick up the English language," ELD chemistry teacher Sam Fung said.
According to the HHS website, the ELD program is broken up into three levels, paired with a literature-related English class that matches the student's level. In addition, regular classes have "sheltered" versions that EL students take. Sheltered classes allow ELD students to learn in a more focused environment until they feel comfortable taking on regular courses. A student's learning plan is customized based on their needs, according to the website.
One of the key differences between an ELD class and its college prep counterpart is the ratio of students to teachers. Fung said since the average class size is around 13, the students end up forming a tight-knit community.
"It's a very good environment where classmates will help each other out," senior and ELD student Jeffrey Ou said.
Because students in ELD classes come from different countries and backgrounds, the curriculum is designed to ensure students understand each other better, Fung said. 
"You must create a friendly environment so that all your international students feel comfortable, so that they can open up," Fung said.
Therefore, Eastland said, there is an emphasis on collaboration and students using each other as a resource.
"I enjoy hearing all the different languages and how students interact with each other to try and cross those language barriers," Eastland said. 
The program aims to be as similar to college prep classes as possible. The content taught is almost entirely the same; the only difference is that it is presented more concisely, Eastland said. Teachers also try to incorporate reading, writing, speaking and listening skills into their lesson plans.
"
It would be like a student walking into their history class, and their teachers only [taught] in Spanish. It would be near impossible to perform at the same level [as fluent speakers].
— algebra teacher Erik Eastland
"I have to try to support the needs of my EL students while also giving them the same or similar tests and assessments," Eastland said. 
To accomplish this, EL students are given additional support from teachers and time to do assignments in class.
"It's slower paced and the teacher will be more patient and we get more work done," Ou said.
However, it can be difficult for some students to achieve success, even with the added help of taking ELD classes, Eastland said. 
"It would be like a student walking into their history class, and their teachers only [taught] in Spanish," Eastland said. "It would be near impossible to perform at the same level [as fluent speakers]." 
Ou agrees and said there can be difficulties in succeeding when put in such an environment. 
"Sometimes the [ELD students] try hard [and] work hard, but they still get low grades," Ou said. "That's the problem … it's going to affect them in the future [college] application process."
One proposed solution for this issue is for schools to focus more on students that have not had much previous schooling, Eastland said. 
"[The school has] done a lot to support the needs of the EL population," Eastland said. "I think it could definitely go further, especially with students who haven't had a whole lot of formal education."
While the department needs to put a little more focus on students in need of extra help so those individuals can have the tools they need to succeed, Eastland said, it is still doing a lot of positive work by having a focused learning environment that also functions as a help network.
"I look forward to seeing how the program continues to build off of its early successes," Eastland said.