Cafeteria partners with fusion restaurant Tasty Pizza
Partnership starts efforts to bring more diverse meal options for students
The cafeteria has partnered with Tasty Pizza, a new Indian-Italian fusion pizza restaurant, with the mission to bring diversity in food for students, district food services manager Divya Puri said. 
"A lot of our high school kids go to Tasty Pizza from what I've seen," Puri said, "so that's why we thought it'd be a good idea to bring them into our school district."
The district has received approximately 200-300 pizzas in bulk, Puri said. The pizzas are "take and bake" style, and come with all the toppings. 
The program was introduced as a way to bring more variety to the school menu and provided freshly made food to the school, co-owner of Tasty Pizza Sukh Sandhu said.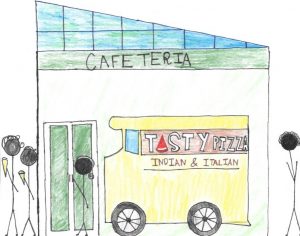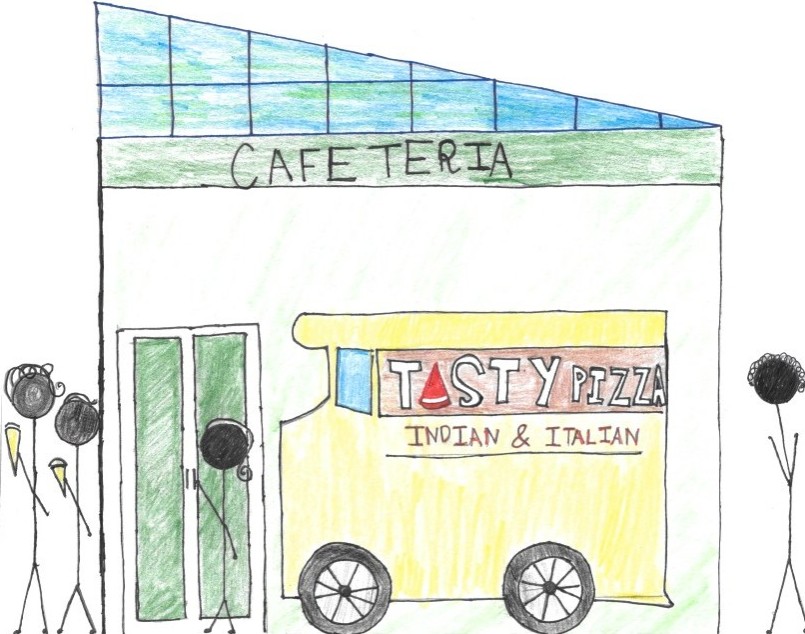 "The schools are able to bake them in their oven, so they come out as hot and fresh as possible," Sandhu said. 
With the new selection of food available, the cafeteria now offers non-vegetarian options, such as butter chicken pizza and pepperoni pizza, as well as vegetarian options such as shahi paneer pizza and cheese pizza.
"I think we have a lot of Asian and Indian kids in the school district and we do not offer or meet those needs," Puri said. 
While Puri only became district manager in January, many of her ideas had already been put into place, and she said she has many more plans for the future.
"I want to introduce tofu as a vegetarian option … and I also want to introduce a kiosk style serving where kids … don't have to come to the cafeteria," Puri said. 
The school's goal through this partnership is to encourage students to get their meals from the school.
"Well … [the goal of the partnership] is to help grow the relationship with the school," Puri said, "and just to give the kids some good food so that they enjoy eating there instead of going off campus [for meals]."
"
I think we have a lot of Asian and Indian kids in the school district and we do not offer or meet those needs.
— district food services manager Divya Puri
Principal Greg Giglio said in an email he thought the partnership with Tasty Pizza was becoming popular amongst students. 
"I have heard students talk about how they like it," Giglio said. "It really offers more choice for students."
One of the reasons Tasty Pizza partnered with FUHSD is to become an active part of the area, Sandhu said. 
"We want to help grow [the business] and be a part of this community for a long time," Sandhu said.
An important aspect the district had to consider when negotiating the partnership was the cost.
"I think [the cost is] probably $12 a pizza," Puri said. "Those pizzas are pricey for us right now to offer to the kids."
Although the pizzas are expensive, it is beneficial for students to have more diverse options that are healthy and balanced, Puri said.
"The idea is to meet every child's need," Puri said. "So, [if] a shahi paneer pizza is something that brings me five more kids in the cafeteria, for me that's a win-win." 
In fact, Puri said in an email that she plans to continue the partnership program next school year.
Puri said school cafeterias often receive bad reputations, merely because the food is associated with the school. However, her main goal is to ensure students have plenty of meal options to choose from, she said. 
"We've introduced the pizza," Puri said, "to meet the needs of kids to become a more diverse cafeteria with more variety of food offerings."