Students create Athena Tutoring as platform for online learning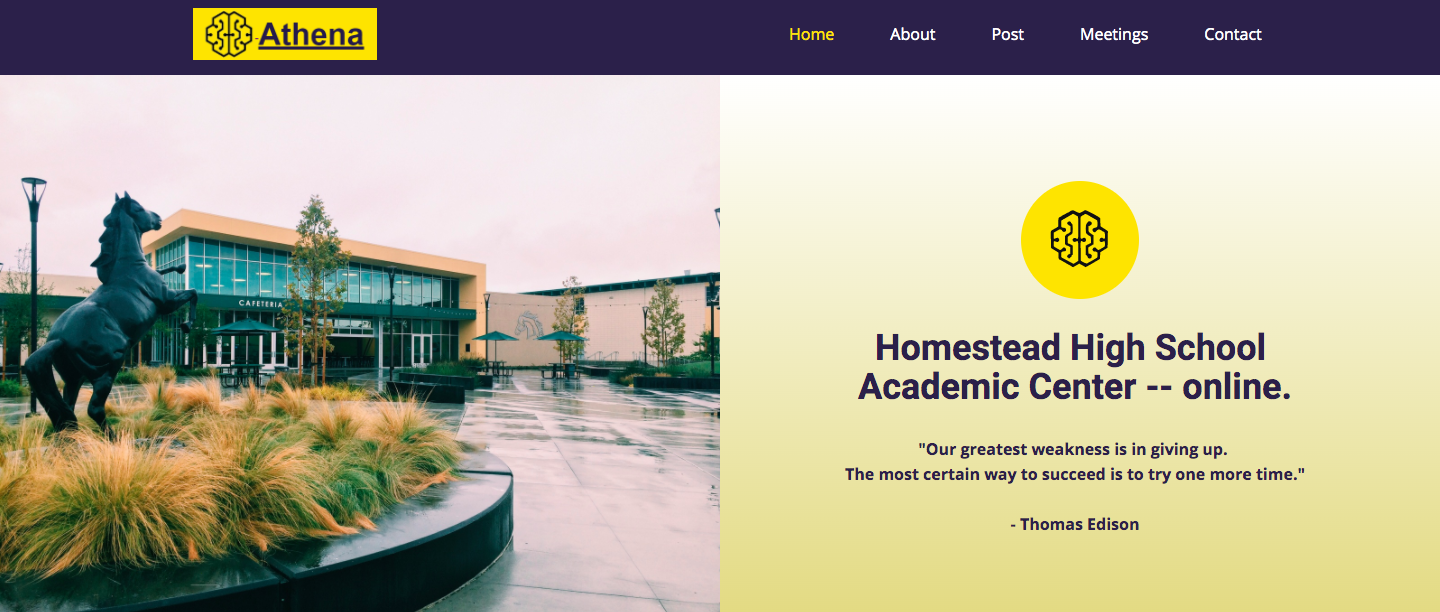 Named after the Greek goddess of knowledge and wisdom, Athena Tutoring is an online tutoring platform created by current students and HHS alumni. 
Through Athena, students can ask questions and import files or images to be received directly by tutors in the academic center, who can help answer any questions or clarify class subject matters, Reet Mishra said. 
The platform was created by alumni Reet Mishra and her team: junior Claire Chen, freshman Rhea Mishra and senior Keshav Gurushankar.
Through Athena, questions sent in are kept private between the sender and the tutors. Students additionally receive an instant notification when the question has been answered, Chen said.
Athena can be found on the HHS website under the "guidance and support" tab and then under the"Academic support" section. It can alternatively be found by going to the Athena Tutoring website. 
Athena Tutoring is accessible 24/7 and has adapted to the new online learning schedule. The tutors have made themselves available for virtual office hours every weekday between 11 a.m. and 12 p.m, Rhea said. 
The creators of Athena recognized the common hesitation students have when asking questions. To combat those stigmas, Athena includes an option for students to ask questions anonymously, Chen said.
As a freshman in college, Reet said it is important to ask questions and seek help when needed. She said she hopes Athena will be a good resource for those who need help developing this skill.
"It's definitely hard to get out of your comfort zone and ask for help, but in college, asking questions is a day-to-day task that you have to do every single day," Reet said. "Hopefully, Athena can help a student that does have questions understand the subject, and help the student improve their skill of asking questions."
With Athena Tutoring, students also receive feedback from tutors who have taken the same class the question stems from. 
"Sometimes you can just text your friend, but in other cases, maybe you want to talk to someone who's already taken the class and get some advice on how to do a problem or approach something specific," Chen said.
The creators of Athena said they credit a large part of the project's success to Claudia Ortiz, the head of the academic center. 
Reet said when she first had the idea of Athena, she contacted Ortiz to get it started through the academic center. 
Throughout the entire founding process, Ortiz was the main coordinator between the administration and the Athena team, Reet said. Ortiz also helped the team test the website, suggested features, gave feedback and supported the team throughout the entire process.
Reet said she first came up with the idea of Athena during her junior year of high school. As a tutor at the academic center since her freshman year, she said she noticed a few problems with the tutoring system that was in place. 
"Sometimes there would be too many tutors and not enough students, or too many students and not enough tutors," she said. "Other times, students weren't able to come to the academic center for help because they had after school commitments or they were just too scared to."
To address all of these concerns, Reet said she had the idea to make the online platform.
The first version of Athena was launched during Reet's senior year in 2019. At the time, students could still go to the academic center or to the library to get some help and Athena was a supplemental resource.
Due to the complications of COVID-19 and HHS moving to online classes, the creators of Athena said they noticed Athena's potential for this current crisis. 
"We saw that there was a much greater need for it now because of the Coronavirus," Rhea said. "So we decided to make a few fixes to it."
Rhea Mishra said the creators of Athena decided to work on a second version of the website, making fixes to the program and interface so it adapts best to the transition into online learning. 
"I think right now, because of the COVID-19 situation, the best thing we can do for our community is to help and support each other," Rhea said. "As of now we can't leave the house, but Athena is a way of helping and supporting students of the community."