The fight against coronavirus not over
Californians lobby for reopening while COVID-19 spreads
COVID-19 is real. This is more than apparent as the coronavirus has already claimed the lives of 3,054 Californians, according to the LA Times. In order to reduce infection rates and keep people safe, California Gov. Gavin Newsom ordered the shutdown of state beaches. However, some groups believe that this was an unnecessary course of action.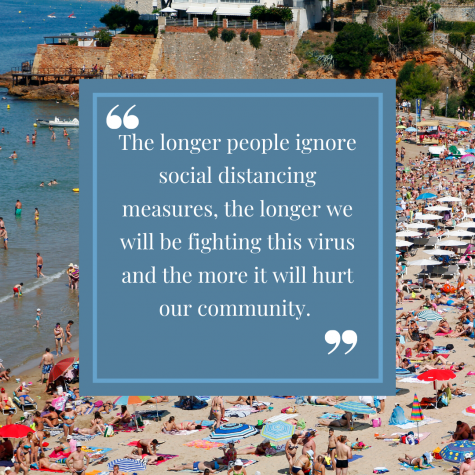 Popular southern California beaches like Newport and Huntington beach have been sites of protest against the closure.
Huntington Beach has filed a lawsuit against the state, saying that Newsom overstepped his powers when he ordered Orange County beaches to close on April 30, according to the LA Times.
Those filing the lawsuit claim that this was an extreme reaction and that by closing beaches, Newsom is taking away their freedom, according to the LA Times.
What these protesters fail to realize is that staying at home is the most crucial part of fighting the virus. It is absolutely ridiculous for people to fight against measures which are meant to keep them safe.
Although the rate of cases has decreased slightly, the fight is not over.
A flattened curve suggests some measure of control over the situation, but no one should be too happy with a large number of new infections every day — even if that number is constant, according to Time. Ultimately, if California relaxes social distancing measures while still in recovery from the first outbreak, the state could easily suffer from another wave of cases.
This is the most dangerous part of the Huntington beach lawsuit. If California does agree to relax restrictions, there could very easily be another spike in cases which would do more harm than good.
Nobody's freedom is being stolen. However, the longer people fight social distancing measures, the longer we will be fighting this virus and the more it will hurt our community.
These people are acting as if coronavirus has simply ceased to exist — a statement which could not be further from the truth. No one alive today has experience with a pandemic of this severity, catching even the most experienced researchers off-guard, according to Vox. The virus is not something that can simply be ignored.
Right now is the most crucial point in our battle against the coronavirus. We cannot be blind to the severity of this pandemic and we should not take our progress for granted.