A look into student summer hobbies
As summer ends, students discuss their favorite hobbies done over the break.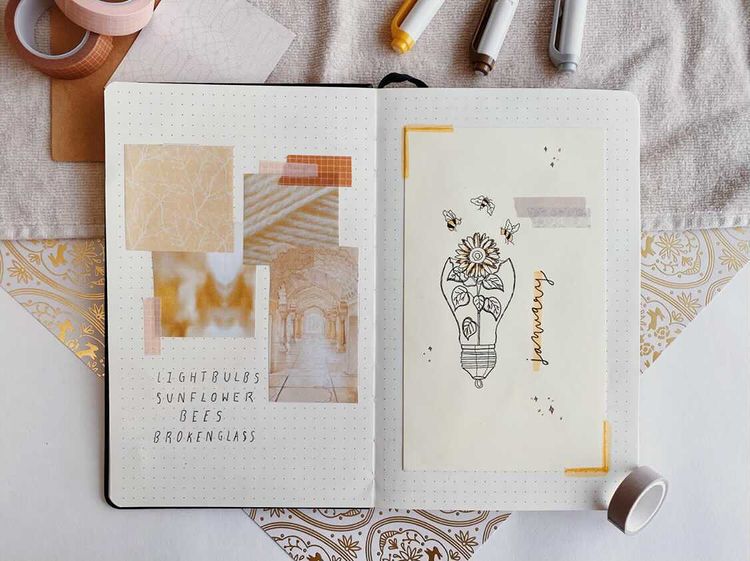 Aarushi Gupta
Aarushi Gupta, a junior, said in a Zoom interview that one of her favorite ways to keep organized is by creating her own bullet journal. A bullet journal is similar to a planner, though the layout, or "spread", is up to its owner.

"My sister introduced me to bullet journaling back in sixth grade," Gupta said. "After watching YouTube videos of people creating their monthly spreads I was really interested in being able to customize my own layouts to plan out my days."
Gupta said that she loves to use materials such as the Crayola Super Tips, Sakura Pigma Micron Pens, and washi tape and stickers to decorate. 
She also has an Instagram account for bullet journaling which she started to learn more about the community.
"I wanted to seek more inspiration from the smaller group [on Instagram] than I was getting on YouTube," Gupta said. "I started the account to connect with others, to share my own work, and hope to inspire some other people who are just starting out."
When asked about some tips for beginners to start bullet journaling, Gupta recommends doing some research first. 
"Follow a couple of YouTube tutorials to see what you want to keep track of, or what exactly you want to do with your bullet journals," Gupta said. There's a lot of freedom [in bullet journaling], so just see what you like and don't like and then start from there."
Tiffany Yu
Junior Tiffany Yu expresses her love for shoes with her hobby of customizing and repairing Dr. Martens boots and Oxfords for buyers on Depop, a shopping app. The buyers would have the option to either request an original style of boot or something with her hand-painted designs. 
"I started my hobby because I needed something to earn money on the side that allowed me to work on my own time," Yu said. "I was also very into Dr. Martens shoes at the time because I liked the aesthetics and knew about the popularity of the brand."
Yu said that there are some frustrating parts in her involving shipping that makes it hard for her to deal with. 
"Once or twice, I made a mistake in shipping and swapped two shipping labels," Yu said. "It is quite a hassle to find lost packages or replace a product for a customer. Packages can get lost or stolen very easily, and it's happened to me at least five times."
Although there are some troubles with her hobby, Yu finds it rewarding, especially when she uploads the photo of the shoes and sets up the stock, allowing the customers to browse a clean and attractive shop. 
"My favorite moments are always when I show off the final product of a hand-painted boot and get to observe the customer's delighted reaction," Yu said. 
Mahima Maru 
During the pandemic, authors took the time to release new books for their followers and junior Mahima Maru said she used her summer to do some catch-up. 
"I really like reading young adult fiction and fantasy novels." Maru said. "I also like realistic fiction because I can relate to it, especially if they're in high school. 
When asked about any recommendations, she mentioned that the "Shatter Me" series by Taheref Mafi is one of her favorites.
"This book [series] is one of my favorites because it is a look into the future," Maru said. "The world is divided and it's quite shocking to learn about such a different point of view. It also has a great romance and the author incorporates a lot of humor throughout."
Though an avid book-lover, Maru said that the only thing she doesn't like about books are their book to movie or TV adaptations. 
"Definitely my least favorite [book to movie adaptation] would be 'To All the Boys I've Loved Before'." Maru said. "I think, if you make a TV series out of it it's okay. If you make a movie, you just are not able to capture every single detail properly because you can't make a 10 hour long movie."
Overall, Maru said that some of the benefits of reading are a better vocabulary and to be able to experience scenarios from a fictional character's point of view. 
"Ever since fourth grade, because I read so many books, I feel like I have a better vocabulary." Maru said. "I think reading books is an escape, it's really fun. People don't think it's fun, but it's fun to live through a book character when you're not able to experience these things by yourself."