Startups: junior give insight on first steps.
Sohum Phadke discusses the procedure of creating a startup
Silicon Valley is known for its lucrative tech industry and numerous new companies across the area. With new ideas emerging every day, Junior Sohum Phadke helps students navigate the startup industry while also managing his own. 
"I think a big misconception people have is that a lot of startups are better than just one," Phadke said. "But it's quality over quantity. The impact of your startup should be really big."
Due to being raised in the Bay Area, Phadke said the tech influence and startup culture in the area motivated him to start his own.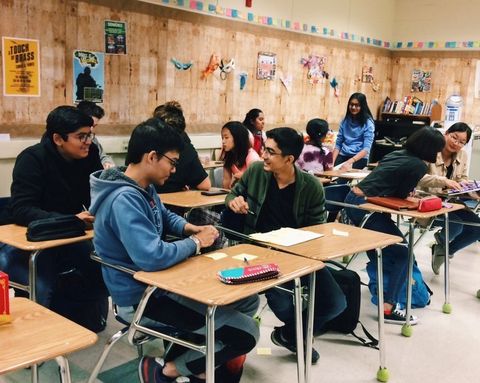 "Being raised in Silicon Valley, I was always surrounded by this area's startup culture. I was fortunate enough to have the resources and guidance that motivated me to pursue the craziest ideas that I thought were completely achievable at my age."
Phadke is the president of Homestead's startup club, HHS Startups. He hopes to use his club to help those who want to make their own startup by providing resources and guidance. 
He started his journey by pitching his startup, Eatzy, in the Diamond Challenge, a competition for entrepreneurs to showcase their ideas. After working on the startup with a team, they placed tenth in the state. 
"Starting a startup basically means you find a solution to a problem that a lot of people face, and then you scale that so people are able to purchase that entity in some form," Phadke said.
Specifically, Phadke said his startup is targeted at students who were not practicing the best eating habits. His team realized that students were engaged in other activities while eating. 
"During lunch and brunch, students would eat while standing, working and talking with others," Phadke said. "After researching, we realized that this 'mindless eating' was extremely harmful to someone's health as it increased the risk of heart disease, obesity and severe mood swings."
Phadke said that there were a few obstacles when starting Eatzy. Because it targeted eating habits in teens, Phadke said they needed to talk to professionals regarding what their startup should focus on measuring. 
"It was hard to find a doctor/physician to talk to us," Phadke said. "Through cold emailing and reaching out to acquaintances, we were able to get a better idea on what we would measure."
In terms of creating one's own startup, like Eatzy, there is a lot of work that needs to be done before one can launch their own. The first is to really pinpoint what the central idea is. 
"When going into a market that is very polluted [has multiple companies with the same idea], you need to differentiate yourself," Phadke said. "The first step in starting is that you need to understand what it is that you want to do and have a really solid problem that you or your community face."
Phadke is proud of what Eatzy was able to achieve, and has future plans for the startup.
"Today, we continue to build on the hardware and software of the product and get our product into the hands of teens around the globe," Phadke said.