Underrepresented clubs deserve greater recognition
Our campus is home to a diverse collection of clubs. With the variety of options available, students are bound to discover one that suits their personal interests. Many of these organizations are dedicated to exploring important topics students should be aware of, they help educate them on cultures they might know nothing about. However, the vast majority of ethnic clubs are underrepresented, despite serving an important role on campus. Ultimately, they deserve to gain greater recognition and appreciation. 
One of the smaller clubs at HHS is Black Student Union, with a total of around 10 members, vice president, junior Xochitl Neely said. BSU aims to empower, teach and discuss the experiences of Black students. Exploring these topics is important because it allows members to build a community on campus and connect with other people from your culture. 
Another club that receives little participation from students is Latinx Student Union, with approximately 11 members, activities director, junior Stepanie Nuno said. LSU revolves around different Latin countries and aims to educate others about the various cultures from these regions, but it has become difficult for the club to spread information with the lack of student involvement. With more student involvement, the larger of an impact the club can make on students, allowing them to have a deeper understanding of Latinx culture.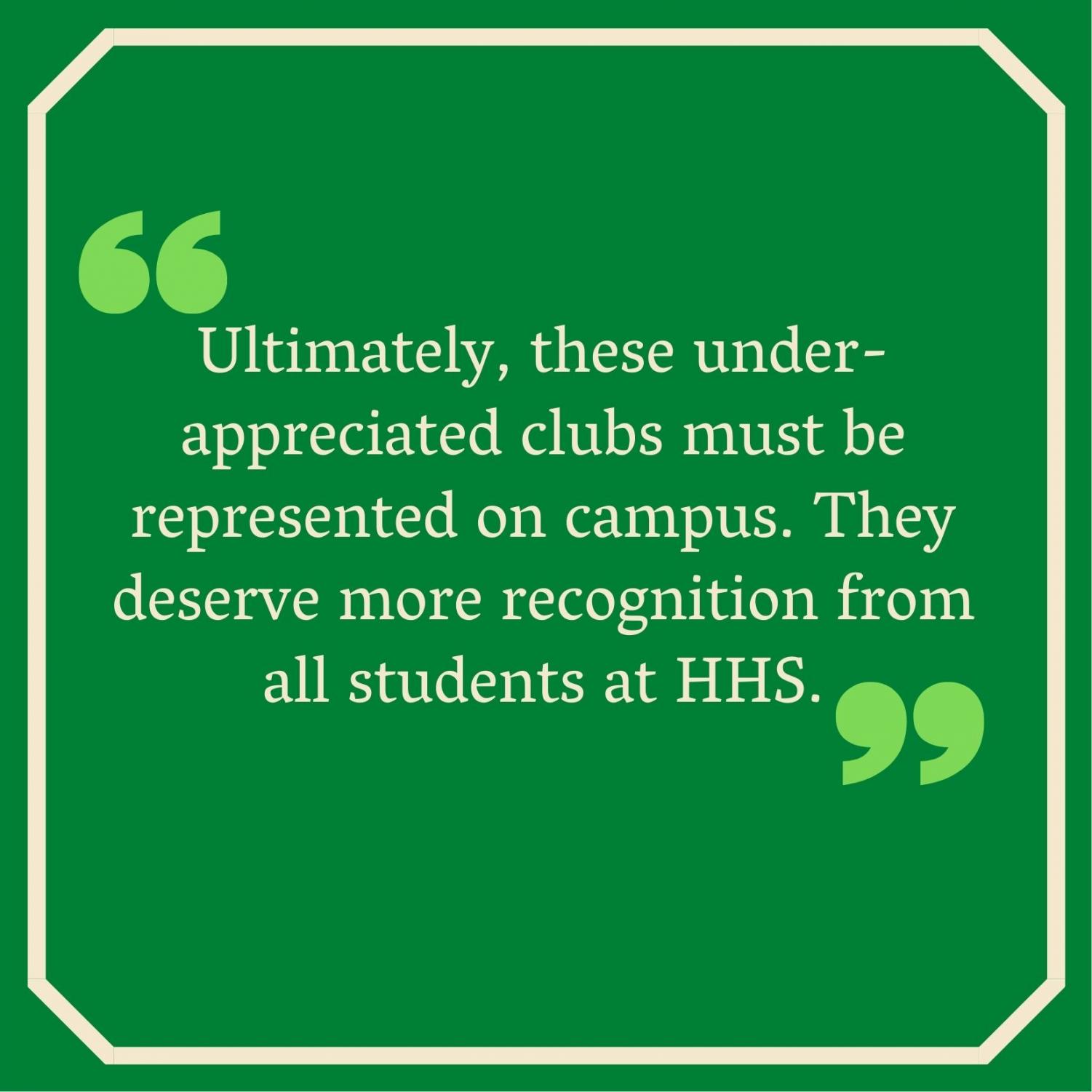 The clubs on campus with fewer members are given fewer opportunities to hold events, due to some events being geared towards a certain genre of clubs. With less opportunities to organize events, these clubs may struggle to attract attention from students, thus leading to a lack of participation. Students tend to be attracted to bigger clubs that can boost their college applications, and put other clubs, like the ones that are centered around culture aside.    
With a lack of members, these clubs become underrepresented, and they face limited opportunities both within the school campus and beyond. With less opportunities to bring in more members and funds the activities and events they plan become restricted. As a result, clubs like BSU do not have the chance to showcase the different aspects of their club and face issues with motivating or inspiring the few members they have. The topics some of the clubs discuss can help broaden students' understanding in certain areas, which can be beneficial for our community.
Students at HHS should take the time to explore all of the different clubs on campus. To fix this, smaller clubs should promote their events and activities through morning announcements or weekly bulletin boards. By doing this, they can gain traction and visibility, while encouraging members of the student body to join the club. 
Ultimately, these underappreciated clubs must be represented on campus. They deserve more recognition from all students at HHS. Joining these smaller clubs will undoubtedly benefit both students and clubs themselves.