Finding a voice
Speech and Debate discusses final competition of year, power of public speaking
It's a familiar scene. A student gets up slowly from their desk. They walk to the front of the classroom with sweaty palms and dry throats as their presentation awaits them. Members of HHS' Speech and Debate hone their craft until this dread all but disappears. In doing so, they uncover the power of their voice, original speech committee leader, junior Hetal Kurani said.
"Public speaking allows me to use my voice to share my opinion about something," Kurani said. "I can get other people to hear me out and have an impact on society."
All of the extensive preparation was employed for the final time this year at the state qualifying tournament, which was held in early March, according to the Coast Forensic League. With this being the last competition of the year, Kurani said her feelings were bittersweet due to her love for the club and mentees, but she is excited for what next year holds.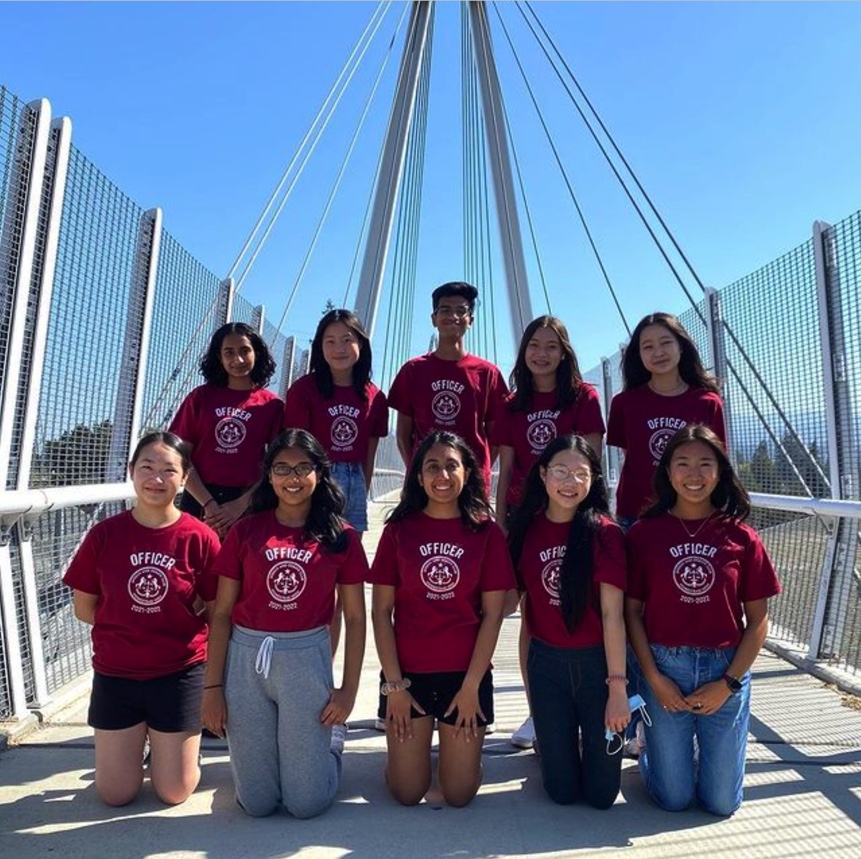 "I was really proud of everyone and how they did," Kurani said. "I felt the final speeches really reflected the competitors' best versions of themselves."
Kurani said both speaking and writing skills are important in her event, in which competitors must prepare and deliver a ten minute speech on a topic of their choice. To aid club members, Kurani said she, along with the competitors, collaboratively revised speeches to catch errors and decide which words to emphasize.
A highlight at the tournament was sophomore Diana Commissariat's advancement to the final round of the Oratorical Interpretation event, in which competitors deliver their own take on an already given speech.
"I was really happy when I made it to the finals," Commissariat said. "It was fun to see the other speeches from amazing people who have made it to the state tournament already and the hard work they put into their speeches."
Commissariat said she has been doing speech competitions at school since she was in second grade, and credits her mom with inspiring her love of public speaking while coaching her to improve from the start.
"My mom has been my biggest supporter, and she coaches me through everything," Commissariat said. "Other schools have professional coaches and a lot more money, but this is just something my mom and I like to do together, and it's really fun for us."
With her mom's encouragement, Commissariat said she practiced her speech whenever she could, whether it was rehearsing in the mirror or listening to a recording of the original on repeat while cleaning her room.
While Commissariat had months to prepare her speech, competitors in the Impromptu speaking event such as sophomore Anurag Poddar have only minutes to craft and deliver a speech about a topic they are presented with on the spot.
"The most challenging part of impromptu speaking is when you get a prompt you know absolutely nothing about," Poddar said. "But you have to do your best to sound smart, so the judges don't think you're totally clueless."
Poddar said the best way to prepare for impromptu speaking is through reading various books. Reading has helped him learn how to express his ideas in a cohesive manner through the introduction of new vocabulary he can use in future speeches. Strategies such as these, along with the expertise of mentors and fellow competitors, have helped him navigate the ups and downs of the year, Poddar said.
"When I made it to the finals in my first competition, I thought I was untouchable," Poddar said. "But then I did really badly in the next one. I realized it wasn't going to be so easy going forward. I started listening to other speeches and analyzing deeper things. I've learned a lot, and I'm looking forward to using it to win next year."
Whether they have minutes or months to prepare, or speak in front of a single judge or a crowd of hundreds, every member of Speech and Debate strives to do one thing: use their voice to make an impact.
"If you have even the remotest interest in [public] speaking, you should join the club," Kurani said. "Start small. If you have something that you want to write about, if you have something that you're passionate about, then you can turn that into a speech. Anything can be turned into a speech. All you have to do is find your voice."