Students reflect on their experiences during COVID-19 and how they have grown
Since COVID- 19, many students have transitioned back to in person learning and every day has become more normal.
It has been over two years since the day the school shut down and transitioned to distance learning. Now, with school close to being back to normal after the mask mandate was lifted, the consequences and experiences of COVID-19 still live on.
Sophomore Abigail Coelho said COVID-19 affected her negatively both mentally and physically, as wearing a mask was difficult for her to get used to and at some points, it made her uncomfortable if she had to sit in a room for a long time with others.On the other hand, once the mask mandate itself was lifted, she was still left in an awkward situation since she had already gotten used to wearing a mask.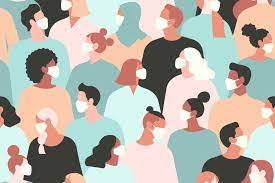 "After a bit of wearing masks it felt weird to have it off and I became more self conscious of my face, scared that I don't look how people would like me," Coelho said. "Once I stopped being super self conscious I for the most part stopped caring about what others have to say about my looks and my personality."
Another thing hard for the sophomore to adjust to was that she had to change from working from home to going in-person very quickly, Coelho said. 
"I also felt more comfortable working from home, as I had more free time and was able to work on things I'm passionate about, like art, while still doing well in school," Coelho said
In terms of relationships, Coelho said she was not able to visit any of her family members who live outside of California which affected her since previously, she would visit her loved ones often. The sophomore also said that the experience helped her discover what she likes in friends. 
"I made many friends over COVID-19, mainly through Zoom classes, and I was able to discover who I wanted to surround myself with, Coelho said. 
Similar to Coelho, sophomore Nitya Peumans said she also had to cope with a lot of changes due to COVID-19 and later adjusting once the pandemic started to wane. However, Peumans said without COVID-19, she would not have explored different school activities. 
"I would never have joined as many clubs as I did last year which  exposed me to a lot of different people," Peumans said
Classes wise, she said COVID- 19 helped her develop a foundation for many of her classes because it was easier to join advisory when it was an asynchronous time.
 "I never developed a foundation in algebra so that made my current higher level classes harder and I couldn't really develop strong study strategies in 9th grade [something that COVID-19 helped with improving," Peumans said.
For sophomore Anika Iyer, COVID-19 was very unexpected. Though there were many down-sides to  COVID- 19, she said she personally enjoyed the effects of quarantine to an extent. 
"Before COVID-19 came to the US, I remember how there was a period of time where I felt like I did not have enough time to myself and due to COVID- 19, I did not have to leave the house so COVID- 19 definitely helped in that way," Iyer said over an email interview. 
Iyer also said she had a lot more time to just be a kid and since her sister was also home from college, she got to spend time with her whole family. 
"I think the time when you're alone and bored is the time where you can find new passions and it helps to discover what you want to do with your life," Iyer said. 
Iyer said she has used the past few weeks to reflect on her experience with COVID- 19 and came to the realization that there have been many ups and downs but she has learned a lot from it.  
"Although COVID-19 definitely had plenty of negative effects and it was not fun to worry about my family and friends being affected by it, I liked the temporary quarantine because overall it gave me a chance to slow things down and think," Iyer said.