A flash from the past
Alumna recounts HHS in its early years
In honor of HHS's 60th anniversary, I met with alumna Maureen Christopher to learn what this school was like all those years ago. Christopher began attending HHS six years after its opening, around the same time as Steve Jobs and Steve Wozniak, before graduating in 1971. This is her story. 
Over a backdrop of world-altering events like the Civil Rights Movement and the Vietnam War, high schoolers at HHS were being — well, high schoolers. They did cheerleading and basketball and marching band. They attended Homecoming and played powderpuff football. They got their driver's licenses as Highway 280 was constructed behind their classrooms; they had fun with friends and pulled pranks on teachers, and stayed up-to-date on the latest music trends. 
"The Beatles came on the scene and turned this country on," Christopher said in a Zoom interview. "They were the first ever to use reverb. Until then, there was no such thing as synthesized music."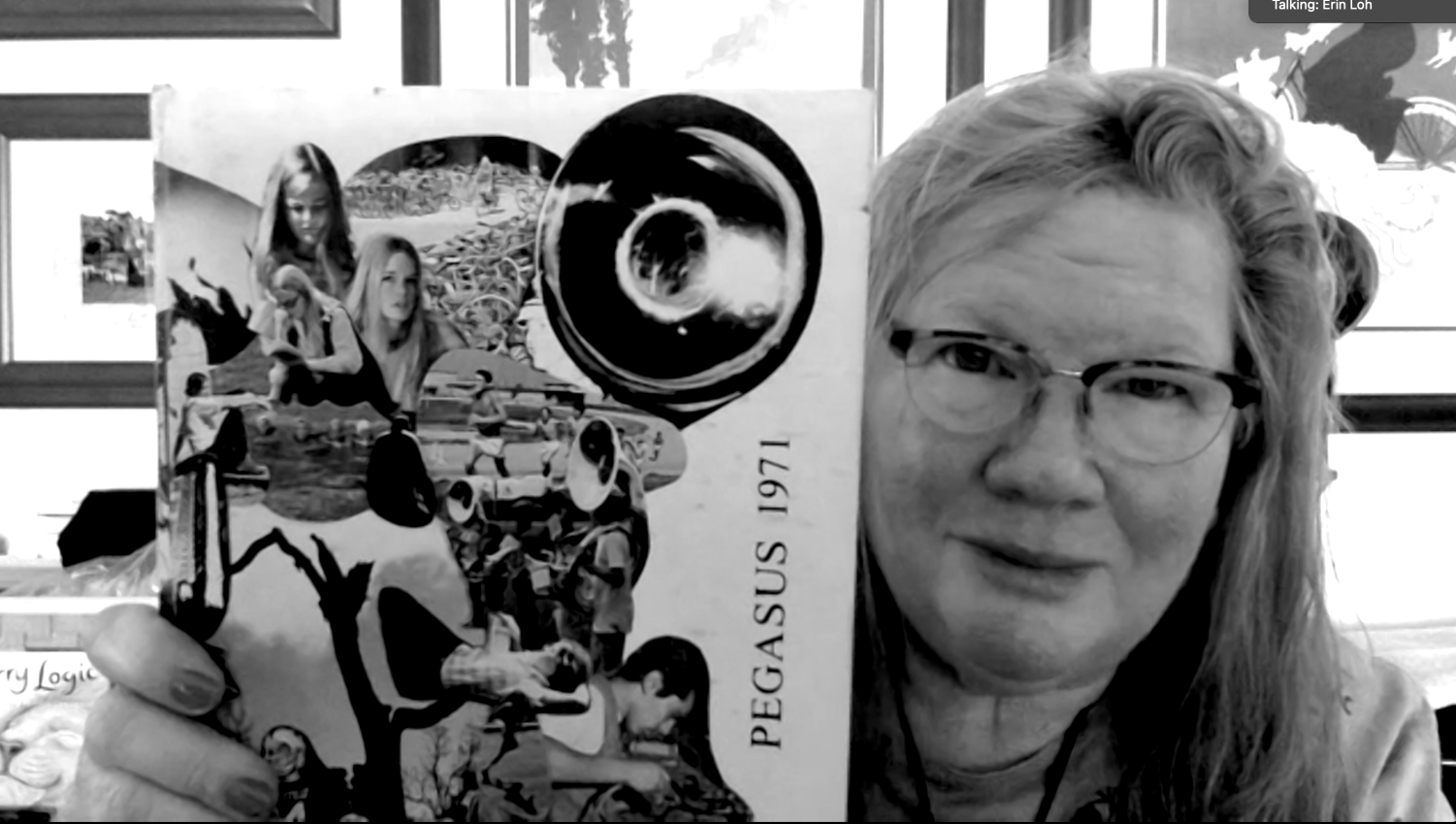 Christopher said she followed a strict dress code while at HHS, one that forbade girls from wearing pants and boys from having hair long enough to reach their collar. After members of her class protested the dress code, however, the district made amendments, such as permitting boys to grow out their hair. 
"If they thought your skirt was too short, they would have you kneel on the ground," Christopher said. "If your skirt did not touch the ground, you were sent home to change."
Much of Christopher's high school experience was spent in the drama classroom, where she made friends and enjoyed building sets. Christopher said she especially loved her drama teacher, Mr. Warren, who not only created the 'stagecraft' class, but also put on four school plays in one year.
"He always wore these really nice suits and drove a Corvette," Christopher said. "Everybody was in awe of him. Over Memorial Day weekend, he took 58 students down to Los Angeles, and we went to Disneyland. Hardly anybody did anything like that."
Christopher helped book motels for the trips to Disneyland, and said those skills helped later on when she got a job as a corporate event planner. Additionally, Christopher has worked as a clerk, lab tech and advertising assistant, getting her tertiary education at Foothill College.
"College for women wasn't pushed as hard as it is now," Christopher said. "I didn't have parents that were supportive at all. It was like, 'You're a woman, you're supposed to get married off.' And I was like, 'Excuse me, I don't think so.' I basically worked full time and went to school at night." 
In addition to having parents who were unsupportive of her educational goals, Christopher said one challenge shared by all students was dealing with the implications of the Vietnam War. Christopher said gloom of the war roused protests across the local area, and oftentimes trumped school spirit.
"The war really loomed over us," Christopher said. "When alumni from Homestead [died in] Vietnam, they would show a memorial picture of that person. That's the first thing I remember about high school: those closed-circuit TVs, the announcements, and the photos of these kids that were killed in Vietnam."
Christopher said the reason so many alumni died in the war was because unlike today, young men were drafted into the military instead of being given the choice. As a result, students who had just graduated high school were susceptible to the draft. 
Despite hearing grim news about the war, however, Christopher said she also found time to be mischievous with friends. 
"This one teacher would have us write songs," Christopher said. "In those days, everything was vinyl, and they always put the lyrics of the songs on the albums. [One of my classmates] started copying lyrics off the songs and submitting them as his own. And the teacher would go on and on about how creative he was." 
Looking back, while there had been ups and downs, Christopher said her four years of high school taught her to think critically, and left her with fond memories. 
"We had a good time laughing and telling jokes," Christopher said. "It was a lot of hanging out at lunch time and acting silly."