Robotics brings home the win
CalGames victory is club's first win in 22-year history
As the final scores of the three-day CalGames robotics competition were announced on Oct. 9, HHS robotics stampeded down the bleachers to receive their trophy. Team members screamed and embraced each other to celebrate their victory over the 35 other teams at the competition, senior, co-software lead Justin Hwang said.
"I remember watching the video of that moment with my family after the competition and seeing myself there in a position that I always wanted to be in," junior, co-safety lead Hyeyoon Song said. "It was great to know that a year's worth of work had culminated with this historic win. Robotics competitions are sort of like sports for spirited nerds, and the fact that this one ended in such a positive way has brought us a lot of confidence going into the next season."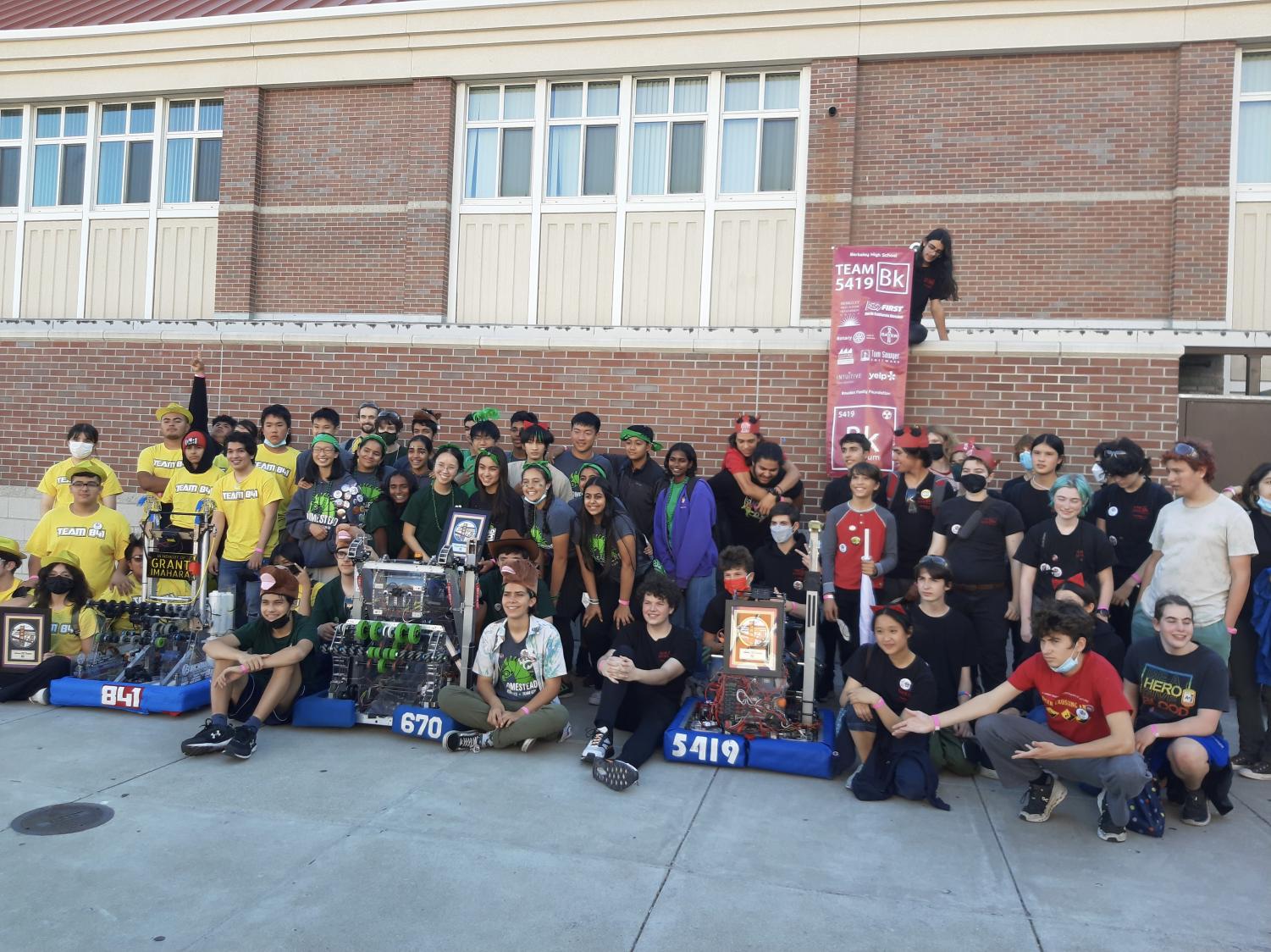 Following the win, junior, drive lead Geoffrey Edge said the team's main goal for the future is to qualify for the world championships in Texas, which the team has never done before.
In addition, the team plans to work on inclusion of newer members, Song said, in order to ensure that officers are not the only ones with knowledge about certain aspects of the club. Last year, experienced officers worked on the robot but then graduated, forcing the remaining members to scramble to catch up, Song said. As a result, one of the club's main goals over the summer was to educate both members and officers to ensure knowledge was passed on.  
"One reason we won is that most of the leadership last year were seniors, and we had a lot of them," Edge said. "We built on the strong foundation they left behind, while implementing some of our own ideas."
In particular, the team worked on scouting, the process of gathering information about other teams to determine the best ones to form an alliance with, Edge said.  This process was especially important at CalGames, Song said, since the team's alliance with Berkeley High School's team help propel it to victory.   
"Almost everyone there was scouting or helping repair things, since we had a couple of times when the robot had substantial mechanical issues that had to be fixed," Edge said. "Everybody was doing their jobs to the best of their ability, which allowed us to win."
Historically, Edge said the team has worked hard to become competitive, but has never been able to reach the next level. That changed at this competition, where the team was able to take the foundations it had built in the past and convert them into a solid win. 
"This is the result of the combined efforts of last year's senior class, who helped to build the robot, and our current team, who brought HHS to victory at the competition," Song said. "It all came together in order to create this positive outcome."