From my P.O.V: Living as a Muslim American during the peak of Islamophobia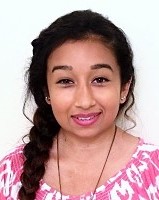 News of another shooting is all over the Internet, and all I can think while scrolling through my Facebook feed is: "Please, please don't let it be a Muslim." It is. Or that's what the headline reads anyway.
It seems the time between extremist attacks has been decreasing quickly. At first it was months between attacks, then weeks, then days – and recently –  six in the same night.
I wasn't in Paris on the night of the ISIS attacks, but I felt the Parisians' fear, and some of my own as I immediately thought of the backlash Muslim Americans like myself would face in the following days. I prepared for the drill I knew all too well: condemn the attacks, explain the "real Islam" to anyone who would listen, take a deep breath and brace myself.
The post-attack procedure is standard for Muslim Americans, but lately, the anti-Islam sentiment worldwide has reached an all-time high. The fact that I feel unsafe living in the diverse and accepting South Bay is enough to tell me so.
What is more upsetting is seeing many of the Muslims around me doing little to influence a change in this attitude. Violent backlash against Muslims has drastically increased around the country, and sharing a Facebook post of "solidarity" isn't going to make any of it go away.
Instead of criticizing ignorant politicians and media in the privacy of our homes, Muslims need to take some responsibility to change the circumstances of Muslims in America. While understanding that no, the Muslim American community has not done anything wrong, we still  need to participate in campaigns, petitions and everyday acts of goodness in the name of our faith, and with the intention of changing its image.
People may be afraid for themselves and their families, but safety is never something that comes with change. Of all American movements against discrimination, none of them succeeded without the risk of alienation or violence.
It is scary sometimes to be the only Muslim student in class during a discussion about terrorism, but I know that speaking up in those situations is what will educate people on the difference between Muslims and self-proclaimed "Islamic" terrorist groups.
But sadly, many Muslim youth are not equipped to deal with Islamophobia. It's not easy, and many kids don't know how to deal with questions or accusations about Islam because they haven't discussed it with their parents or a role model.
Recently, I have had the opportunity to be a mentor to younger Muslim kids, which has helped them deal with recent tragic events connected to the Muslim community – like the San Bernardino shooting, the ISIS attacks in Paris, and an event that hits closer to home – the stabbing incident on the UC Merced campus in early November.
"He was so smart. He was like a big brother."
This is what I heard one of my 6th grade students sob as I walked to the back of my Sunday school classroom with a box of tissues. He was talking about Faisal Mohammad, the 18-year-old UC Merced student who stabbed four people on campus before being shot by campus police.
As a graduate of Wilcox High School in Santa Clara, Mohammad had previously been part of the local Muslim community. Because many of our students knew him personally, my co-teacher and I decided to take a class period to discuss the event.
We used the incident to open a discussion on school bullying, since Mohammad was said to have been bullied.
After hearing their experiences with bullying, I found myself trying to protect this group of 11- and 12-year-old boys as if they were young men – telling them to be careful because their religion and the color of their skin could put them in harmful situations. But at the same time, I needed to remind them to be proud of who they are.
Unfortunately, they knew the reality of Islamophobia better than even I do, with stories of being verbally and physically assaulted by classmates because they are Muslim, or having to defend their mothers in public for wearing a headscarf.
The ignorance and misinformation propagated by mainstream media quickly finds it's way to classrooms, supermarkets and social media, and many young Muslim Americans have to choose between being a proud Muslim and being safe.
Anti-Muslim rhetoric has a constant presence on social media – it feels like every time I open my Facebook feed, there is someone calling for Muslims to be deported (to God knows where) or that another Muslim American has been attacked on the basis of their skin color, or the fabric around their head.
I can't help but fear that my own community will be next.
However, there is an equal amount of educated people fighting back against ignorance, especially within the Homestead community. It's reassuring to know that there are people on campus who have my back and that of my Muslim classmates.
Muslims and non-Muslim Americans alike need to come together and do their part to eliminate stereotyping and bigotry so our country can be safe for people of all faiths and colors.