Hundreds of students from across the district come together, waiting on the sidelines of a football field and carrying instruments and colorful flags as they prepare for their turn to perform. Among the students stand uniforms of green and white, waiting to give their all at the annual FUHSD Marching Band EXPO. The event includes performances from the five high school's marching bands and color guard teams, orchestra director John Burn said.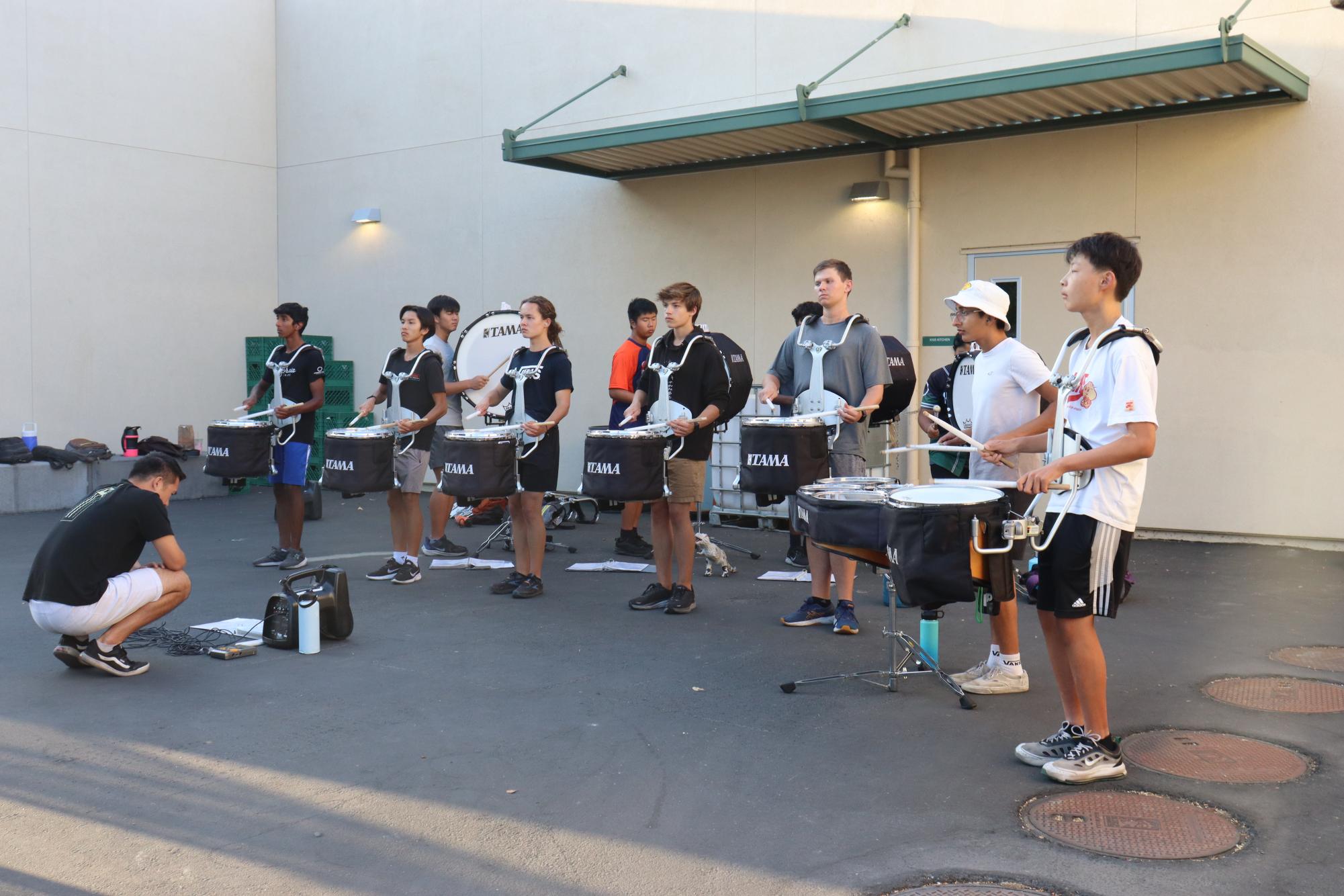 This year, the EXPO will be held at FHS on Oct. 7 and will be a way for schools to share all their hard work with other bands, flutist Iris Li said.
"I really enjoy watching the shows," Li said. "When we go to a marching band competition, we never get to see the other bands, so I enjoy watching the other bands perform in our district."
The marching band, working alongside the colorguard, will perform songs tying back to a common theme: Chasing Carmen. The field show consists of music from the original video games, the PBS cartoon show and the opera, "Carmen" to tell the story of the iconic character, Burn said.
"I have a team of designers that compare what other bands are doing and [in prior years], we've had success with female pop culture icons," Burn said. "Whether it was Dorothy from 'The Wizard of Oz' or Cruella De Vil from '101 Dalmations,' this will make for a fun focal point for our show."
In preparations for the EXPO, the marching band has practice sessions weekly on Monday, Thursday and Saturday nights, trumpet player junior Madhumitha Balaji said. 
However, there were many challenges that the students needed to overcome, such as handling the hot weather, Burn said.
"Kids have a hard time dealing with the weather sometimes," Burn said. "But we give [students] lots of water breaks and we design our workout program so that they get stronger throughout the year and can keep [practicing] longer."
Similarly, Balaji is not a fan of the heat either. 
"We started [practice] two weeks before school started during band camp," Balaji said. "It can get really hot sometimes so we have to get through the fatigue."
Another challenge is learning how to play together as a band, Balaji added. 
"It's hard to memorize everything from music, drill and visuals," Balaji said. "It's also hard connecting all three of those things together as well to create a full cohesive show."
Even though practices are strenuous, Burn said he hopes the EXPO will be an incredible experience for both students and the audience.
"Having [the EXPO] after COVID again was so great because you realize how special and worthwhile it is to be together and share music with other people," Burn said.