Advanced Drama students express themselves
Advanced Drama students perform a spectrum of theater scenes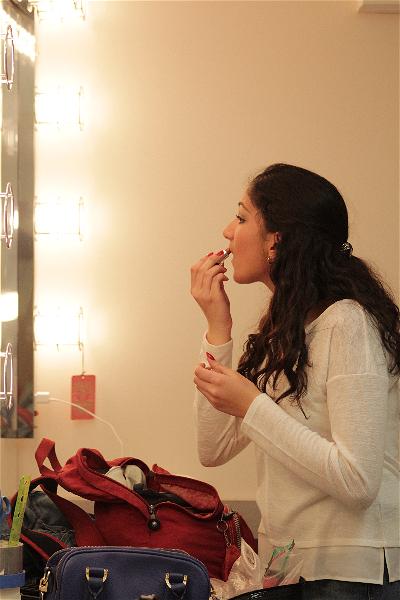 The HHS Theater department produced yet another set of performances. The Advanced Drama students acted out short scenes that were compiled into two nights of diverse acts and monologues.
"Mrs. [Leslie] Lloyd put us in scenes she thought would best fit us as actors," junior Edith Kwon said. After being assigned a role and scene, the students memorized and rehearsed them with other classmates and their teacher.
"We were given these pieces about two weeks before break," junior Emily Holden said. "And we've just been working on them ever since. Working with Mrs. Lloyd and her husband and each other."
The first night included four performances while the second had eight, four of which were monologues.
"Doing a monologue specifically is an interesting process because it's alone, so that was kind of new to me," senior Lilith Sarkar said.
Sarkar said she has been performing in drama all four years of high school.
"You take the same steps to first memorize, and get into character, and then understand the character's background and come up with quirks that your character has," Sarkar said.
The shows were completely free and started at 6:30 p.m. in the auditorium. The actors ranged from sophomores to seniors. The scenes themselves varied from simple comedies to science fiction to even a monologue originally written by Lana Del Rey performed by junior Geoffrey Silk.
Even though many of the students had been performing for multiple years, they still faced many challenges and struggled to memorize all their lines in a short time while also give a perfect performance.
"My favorite part was for the first time of my life, to be able to experience not accomplishing something," Silk said. "In the theater world, usually I'm able to pull everything together. It's the first time I've ever struggled like that, so it's taught me a lot."
Junior Jefferson Thompson performed in two scenes, one of which he was assigned to  the weekend before preforming.
"It's pretty intense," Thompson said. "It's the first time a lot of us have been on stage in front of people, which is just a crazy stressful but fun experience."
The project not only taught students more about acting but also brought many of them together and created tight friendships. Many students agreed that becoming close with their partner was their favorite part of the process.
"I think working with my partner was my favorite part, because we bonded and got to talk about other things as well," sophomore Maiyan Pearl said. "I'm so happy and so thankful for my partner Kyra. She did an outstanding job and I couldn't ask for a better partner."
All the students in Advanced Drama had to complete a regular drama class before taking Advanced Drama and all of them came back for a reason.
"[Advanced Drama] is a lot of fun and I appreciate that everyone is pretty into it," Sarkar said. "It's a small class but it's very much a close community."