Bike repair station donated to campus
Walk-Bike Cupertino, Rotary Club and administration team up
A joint effort between community organization Walk-Bike Cupertino, the Rotary Club and administration has cumilinated in the purchase of a bike repair station available to students and community members likely before the end of the school year, founder and board member of Walk-Bike Cupertino Larry Dean said.
"[Some students do not bike] because they either have a flat tire or don't feel safe to do so," Dean said.
The repair station, designed by Dero Corporation, includes screwdrivers, Allen wrenches, box wrenches, tire levers and an air pump, according to the company's website. The station will also consist of two posts so the bike can be suspended while repairs are being made, Dean said.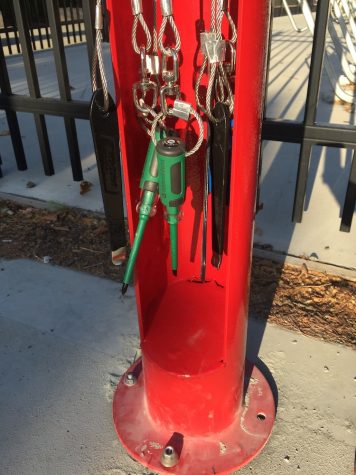 While MVHS is the only FUHSD school that currently has a repair station, Dean said all schools will have one by the end of the year. He said he hopes the station will encourage more students to repair and ride their bikes.
Dean said each station will cost around $1,800, with Walk-Bike Cupertino and the Rotary Club paying about two-thirds of the cost. HHS will pay the remaining amount for the school's station.
"[We're] really excited that the rotary and the city are working together to support all the kids who ride bikes," principal Greg Giglio said.
Dean said the two stations currently in place at MVHS and De Anza College are used frequently and have had a positive reception
"[We are] continuing to make the environment safer and easier to bike and walk," Dean said.
Walk-Bike Cupertino also has events in the community including safety hackathons and bike swaps, according to the organization's website. For more information, visit www.walkbikecupertino.org.