KSA prepares for blacklight rally
Students spend hours preparing for dance performance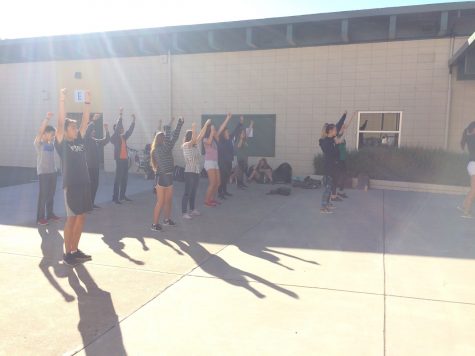 Korean Student Association (KSA) club officers and members are putting in a lot of effort for their upcoming dance performance at the Blacklight Rally. The Krew dance team has dance practices every Friday for about an hour and a half. Krew captain Jannie Zhong said she prepares for dance performances as early as the summer.
"A couple months in advance, I choose the songs we're going to do, and from there, I learn the choreography myself," Zhong said.
Senior club member Shaelan Walker, who frequently goes to dance practices, said that she enjoys dancing through KSA.
"I love dancing with Krew. Everyone is super nice, and they're just great people to hang out with. Jannie makes it super easy to learn the steps and goes out of her way to block out some time for helping us if we still don't get it after practice ends," Walker said.
Club President Sunho Kum said that aside from her Korean heritage, she became interested in KSA through Krew as well as the various events that KSA provides.
"I love the concept of doing Krew and covers of groups, doing k-drama socials and helping spread the culture," Kum said.
Anyone who wants to join the team can join; members do not need to have previous experience in dancing. Aside from regular practices, extra help from the captain is provided through other dance practices.
"I also do extra practices for people who either weren't there or feel like they need help, so I'll meet with them either during tutorial or after school when I can," Zhong said. "People think that it's a really scary thing learning how to dance, but for the Blacklight Rally, no one can see who you are."