Students celebrate diversity through Multicultural Night
Attendees experience different cultural backgrounds
Various clubs of different backgrounds came together for Multicultural Night on Jan. 9 to share their heritage. Students experienced different ethnic and religious traditions by enjoying different exotic foods and engaging in activities hosted by the clubs. There were also performances from the dance clubs such as KSA's Krew and IndoPak's Bhangra as well as a fashion show that showcased various cultures.
EL commissioner Chiara Tommasi said that Multicultural Night started around six or seven years ago and was originally put together by the cultural clubs.
"The EL commissioners became kind of in charge of it but it's still the clubs' event. We're just helping to organize it and direct everything," Tommasi said.
The EL commissioners begin planning for the event a few months prior to the event and start contacting clubs to make sure that they are interested in participating, EL commissioner Mita Ramesh said.
"We basically give [the clubs] like a layout of what's going to be happening and then we also contact organizations for performances. Like this year, we had mariachi and the Filipino dance group and taiko," Ramesh said.
During Multicultural Night, each cultural club had booths set up to sell food and do their activity.
This year, Spanish National Honor Society (SNHS) sold pan dulce and had an activity for making corn husk dolls. SNHS president Collin Cheng said that traditionally, children would make corn husk dolls as a fun way to pass time.
"We also sort of reflected in our fashion show, where we have representing a traditional Argentinian rural outfit, so this is all sort of our idea of a simple everyday lifestyle," Cheng said.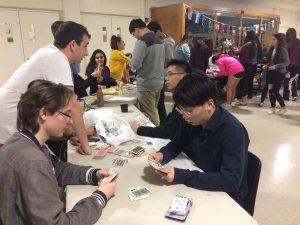 French National Honor Society made Mardi Gras masks because the holiday falls on Feb. 13 this year, co-president Noa Khen said.
"They have like a parade in New Orleans and they wear purple, green, and gold and each color has a symbol," Khen said.
Russian Student Union decided to play durak, which is a traditional Russian card game, for their activity, president Josh Shamelashvili said.
Jewish Student Union decided to sell a variety of foods because it is a huge part of their culture, president Yarden Zinger and treasurer Ori Brutman said.
"Almost every holiday, even the holiday where you're supposed to fast all day, after the fast, we eat a huge meal," Zinger said.
The Muslim Student Association (MSA) activities involved a hijab tutorial as well as Arabic calligraphy. MSA president Anam Siddiqee said that because Muslims are part of a religion, they have a variety of outfits as it represents people from different parts of the world.
"In the fashion show, we have people wearing a western outfit, some are wearing Pakistani outfit and others are wearing more religious attires," Siddiqee said.
IndoPak decided to showcase their Bhangra group because it is the most traditional dance that IndoPak does, co-president Nikhil Kulkarni said. IndoPak dance teams Bhangra and Film had performances throughout the week.
"Film is just kind of like from Bollywood movies, it's like the dances from there. It gets put into the dance," Kulkarni said.
National Chinese Honor Society had activities where people did calligraphy and played shuttlecock, president Lindsey Low said.
"It's like a feather game where you kick it on the side of your feet and you don't want it to touch the ground," Low said. "Little kids play them to entertain themselves, and at school, students practice calligraphy."
Japanese National Honor Society (JNHS) sold spam musubi and had an activity for students to play yoyo tsuri, a fishing game where a piece of rice paper is attached to a small paperclip hook and players "fish" for balloons.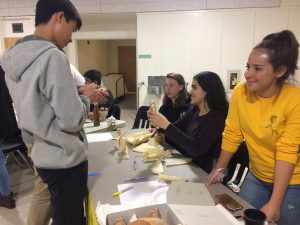 "Basically what you're trying to do is scoop up the yoyo tsuri without breaking the hook," JNHS vice president Larissa Lai said. "They usually play it in a lot of festivals and to get children involved and also if they get it up, they can keep the yoyo tsuri."
EL commissioner Shannon Cheung and Mita Ramesh said that the main purpose of Multicultural Night was to celebrate and promote diversity.
"Our purpose is to celebrate and promote the cultural diversity at Homestead, and just celebrate that Homestead's unique quality is our diversity," Cheung said.
Sophomore Katherine Rizkalla said that the performances throughout the week were fun.
"I think it shows how passionate people are about their culture, and it shows how passionate Homestead is about making each culture an important part of our community," Rizkalla said.