20  members of the HHS Model United Nations club attended a competitive conference March 2-4 at UC Berkeley. Berkeley MUN is one of the largest conferences the club attends annually.
There are over 2,500 people that attend the conference, which includes high school students, international students and middle schoolers, club officer and junior Michael Wallerius said.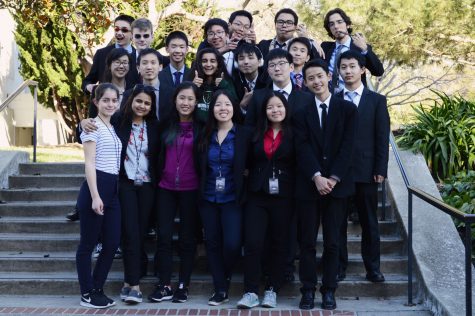 "What Model UN does is it mimics the UN, so the way procedure works in the UN is the same way procedure worked [at BMUN]," officer and junior Dan Cohen said.
For BMUN, the participants had to write a 10-page research paper on their country, Wallerius said. The paper had to include background information, current policies, what the  members plan on doing, or arguing, during the conference and why they plan on doing it.
Cohen and partner Wallerius did very well at BMUN representing Iraq, club Vice President Kary Wang said. They "gaveled," which is the MUN equivalent of getting first place.
"I think it is important to get feedback from the people running [MUN conferences]," Wallerius said. "One of the reasons we were able to win best delegate was because we took feedback from the chairs after each session."
The main difficulty with conferences like BMUN is the size, which can lead to less participation by members of MUN, junior and club member Mira Khosla said.
"There were a little less than 200 students in the lecture hall with me. This meant that everything was a little more chaotic and that the students in charge had to put in a lot more effort to keep things running smoothly," Khosla said.
Contrasting Khosla's view of the conference, some members believe the size is more exciting because of all of the different opinions and the large debates, Cohen said.
Overall, Wang said, HHS MUN members performed very well.
"I am very proud of the amount of preparation, intellectual discussion, public speaking skills, and more that each of our delegates displayed," Wang said.