Japanese culture celebrated with karaoke social at CHS
S
ong filled CHS's cafeteria this Nov. 30. The school hosted an annual karaoke social which featured performances of songs sung exclusively in Japanese by students and teachers.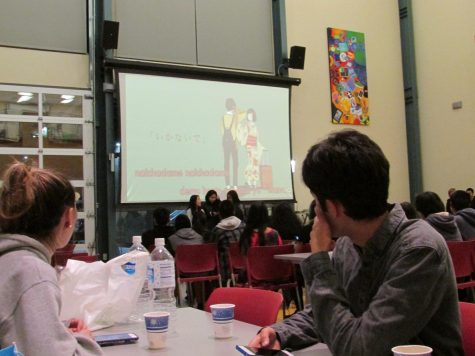 The event brought together students and teachers from all over the district to watch and compete in a friendly two-hour singing competition and get food and drinks.
"I think what attracts people [to] this event is the fact that you get to sing karaoke," HHS junior Timothy Pham said, "not under a fee, but as yourself, and it's a fun thing to do on a Friday night; and why not?"
To other performers and audience members, their connections to the Japanese programs at their own schools was what drew them to the karaoke social.
"I think that, in a lot of schools, the Japanese program is usually the smallest" LHS  senior Patricia Wey said, "and I think that is what makes the Japanese program unique, it's really the students bonding together … It's a really chill event and it's really about having another outlet to express your interest in Japanese that's not academic."
At this event, which multiple schools participated in, several students from HHS sang in the karaoke social. For instance, junior Eita Mabuchi performed Daisuke Shima's "Otoko no Kunsho."
Japanese teacher Junko Birdsong said she was impressed with all the performances given during the karaoke social and the students' dedication to them.
"All the students that participated, I can tell that they practiced a lot," Birdsong said. "You know, it's really respectful and responsible for them and their contribution is really appreciated. Without them, it's not happening or it's not fun. And also, the audience, they are very positive, sharing others. It was a nice fun, respectful environment, I like that."
Birdsong, who, along with Japanese teachers from other schools, was a judge for the performances, said she tries to keep up to date with her knowledge of modern music.
"For this one, I knew maybe half of [the songs]," Birdsong said. "… it's really good for me to learn new [aspects] of cultures."