Interact club rebuilds agenda after comeback
I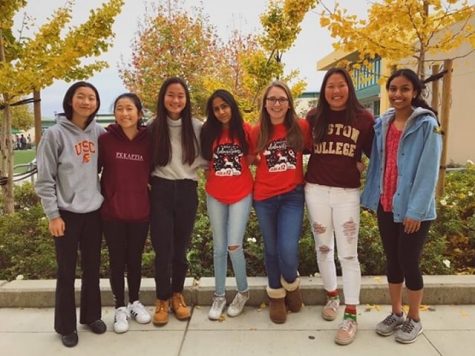 nteract Club was one of the largest volunteer clubs on campus and has been off the radar for two years due to previous officers being negligent in attending the executive meetings, sophomore Mehek Mehta said.
Mehta and junior Anna Le Saint, co-presidents of Interact, worked to build Interact back up from scratch.
"Last year, there were no official meetings, it was all very underground 'cause [the previous officers] were trying to rebuild Interact," Le Saint said. "Sadly, [the club] didn't get passed [last year] but this year we got passed."
Interact is a volunteer club branched out in many different locations, Le Saint said.
"We have two projects every year; we have an international project and we have a community project," Mehta said.
The community project is for people to bond and raise hours. The international project is to raise money for underprivileged children, Mehta said.
"The community project is called Future and Focusable," Le Saint said. "We are raising community hours to help people see and provide glasses to underprivileged children in the Silicon Valley. Our international project is called Si Necesitas un Pueblo (If You Need a Town). It is to help people in Venezuela who are homeless or just doing poorly because of the crises there."
Interact frequently hosts fundraisers at restaurants, such as Chipotle, to raise money for their International project, Mehta said.
"We also have events [to fundraise]. For example, we just had the Area 12 benefit show that happened in Fremont High [School] where a lot of people came from schools around the Bay Area," Mehta said.
Interact is a huge organization with more than a thousand clubs located all around the world, divided into districts, Le Saint said.
"We are in district 5170. That is the biggest district in the whole world," Le Saint said. "I think California is the biggest district in the U.S cause we have the most members.There are different areas in this district because it is so big, and we are Area 12, which is just our school district."
Interact partners up with many organizations, sometimes for events that aim to  donate to the community.
"We are part of a specific organization [called] Rotary which is a worldwide organization with adults," Mehta said. "Rotary provides a certain amount of money each year that we use."
The officers of Interact want to complete their dream of bringing Interact back to where it was, but they first need to recruit members who are invested in the club, Lee Saint said.
"Of course we would want to spread the message and have more members, but for us it is more important the the members we have are fully there. Passion is the most important thing for us," Mehta said.
The year is winding down but Interact has more events planned for next year Le Saint said.
"I want everyone at Homestead to experience what Interact has to offer," Le Saint said.