Girls tennis star Thien-Ni reflects on season
Sophomore Thien-Nhi Vu was one of multiple players on the varsity tennis team to qualify for CCS playoffs. As the only sophomore on varsity, she is a dominant singles player, and managed to lose only one of her matches the entire year.
"I had a winning streak all season," Vu said, "[and I didn't] lose a league match until our last game of the year."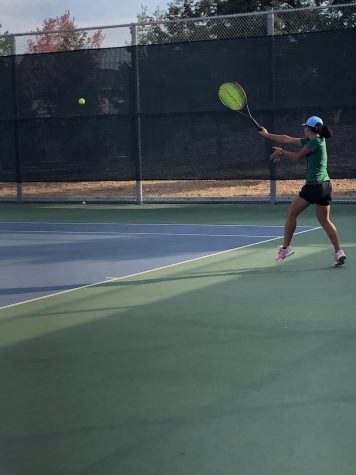 Vu said her passion for the game comes mainly from her father and multiple other family members who play tennis.
"I started playing when I was five or six," Vu said. "My dad kind of led me in the direction to play [tennis] but I didn't really take it seriously until I was 10."
Vu said the entire team had high expectations coming into the year after being moved down a league. The team definitely lived up to their expectations, winning leagues and qualifying for CCS. 
Vu said she credits a lot of the team's success to their coach, Sundar Parthasarathy, who is in his first year coaching the team. 
"He's a really chill coach and has a very different way of interacting with players than I've seen before," Vu said. "It took some time to get used to the way he coaches but he gives great advice and tips." 
Vu said that Parthasarathy also encourages the team to spend time together outside of the sport to tighten their team bond. 
"Sometimes, after practice or a game he asks us if we want to go out together and get frozen yogurt, which we have done [in the past]," Vu said. 
These bonding activities have inspired other events like team socials at various captains' houses where they eat snacks and play games with one another, Vu said. 
As a sophomore on the team, Vu said she is looking forward to having another great season next year, but she knows it will be more of a challenge. 
"With winning the El Camino league this season, we are moving up to the De Anza league next year, so the competition will be much better," Vu said. "We [will] have to prove that we belong in the higher league."