Alumni help seniors with post high school decisions
Alumni provide important resources, guidance
Spurred by a request from the PTSA, alumni are reaching out to current seniors to provide information about their post high school experiences to alleviate the stress surrounding college decisions, as COVID-19 has led to the cancellation of all college orientation events and campus tours.
May 1, the infamous "decision day" is just around the corner and current seniors are left without the option to visit the campuses of schools in which they have been admitted.
"You really have to experience campus culture and see what it's like," 2019 alumna and Stanford freshman Lauren Lowe said in a phone interview. "Some students might have had the opportunity to do that before they get in, but … now with the coronavirus, [seniors] are not allowed to do that."
Compared to previous years, the class of 2020 has significantly fewer available resources when choosing a college. Alumni from as far back as the class of 2013 are helping o fill in the gaps and pass on information about the schools they attend, alumnus and Stanford freshman Brenden Koo said in a phone  interview.
"We are just trying to give as many resources as possible," Koo said."[Because] events like admitted students weekends have been canceled, [and] we want to [provide] those resources to [students] at the best of our abilities."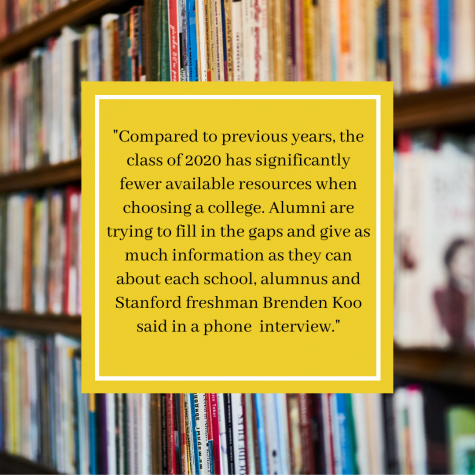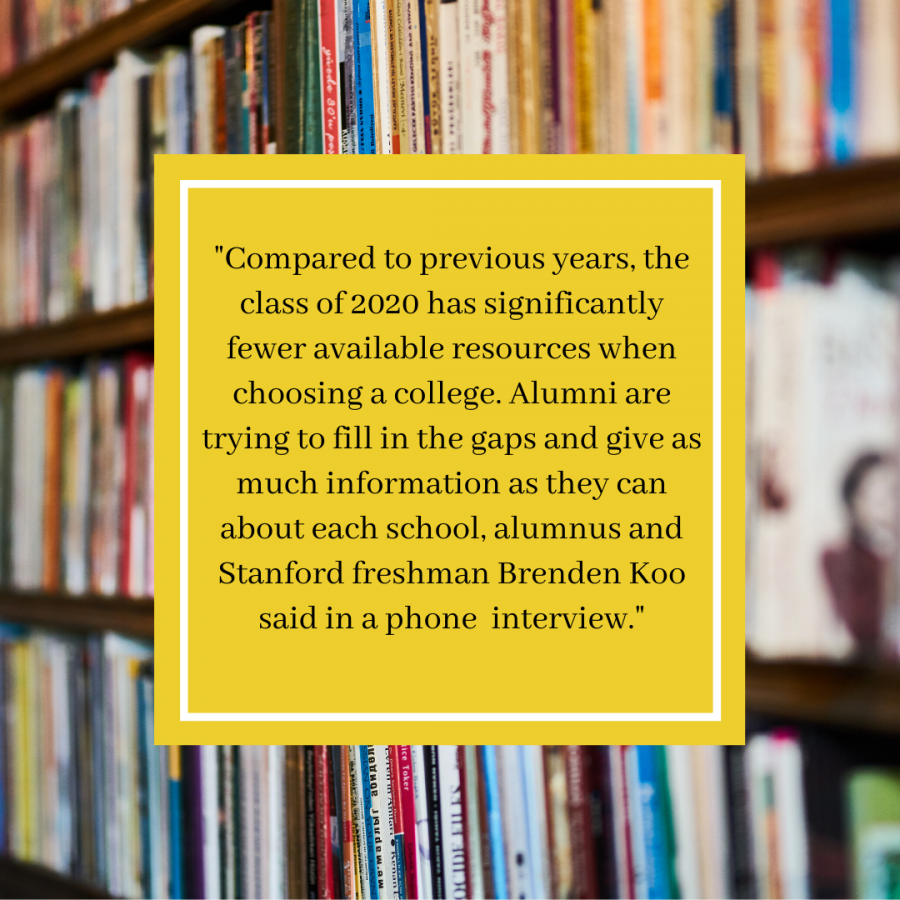 One resource includes a series of Youtube videos in which college students are showing a day in the life on their campus, Koo said. Another resource is a spreadsheet with contact information for over 200 alumni, sorted by school, which current seniors can access to find someone to talk to about a given campus.
2019 alumna and senior at the University of Redlands Sofia Olsson said in a phone interview that when looking for information about a college, students should think about contacting admissions counselors, as well as professors from the department of their major, to get the most helpful information about where they are going to be spending the next four years.
"[It is important for students to be] really communicative with the specific questions that they do have about how the future will proceed," Olsson said. "And that might help [prevent students from] second guessing as well."
Olsson said second-guessing the college they have chosen to attend is a big issue seniors frequently run into.
"If you feel right [about] a place, just go for it." Olsson said. "It will be an amazing four years, despite the current situation and the weird start."
Lowe said it is also important to follow your gut feeling with college decisions. 
"This is definitely a very stressful time and I think sometimes you might wonder if you're making the right or wrong decision," Lowe said."But at the same time, whatever decision you make is going to be wonderful."
Lowe said at this time it is important for seniors to not worry about making the wrong decision and instead to think about the good things that are coming.
"People make the best of their experiences," Lowe said. "I think [seniors need] to just take a step back and relax and think 'I did it' and 'I'm going to college' and 'that's awesome.'"
To view more videos and advice from alumni, check out the list of resources on the PTSA website, listed under 'HHS alums sharing college advice.'