James Ratti: world traveler to landscape artist
James Ratti is a world literature and AVID teacher who has taught at HHS for 13 years and is passionate about the environment, social justice and traveling. 
When the pandemic began, similar to many others, Ratti had to put his travel plans on hold and stay home. 
"We usually like to travel in the summer of course, because my partner has a similar schedule to me, but we decided to take that money [and use it for] designing, putting together and digging a backyard," Ratti said. "[Before], it was a junkyard."
To get started on his quarantine project, Ratti hired a design company to create a plan for his backyard renovation. Shortly thereafter, his work began. 
"There were just all these different steps we had to take and then of course this summer was really hot, and really smoky, and I was doing most of the work on my own," Ratti said.  "And so we finally got to a point at the beginning of this month, where we had dug everything that we needed to dig."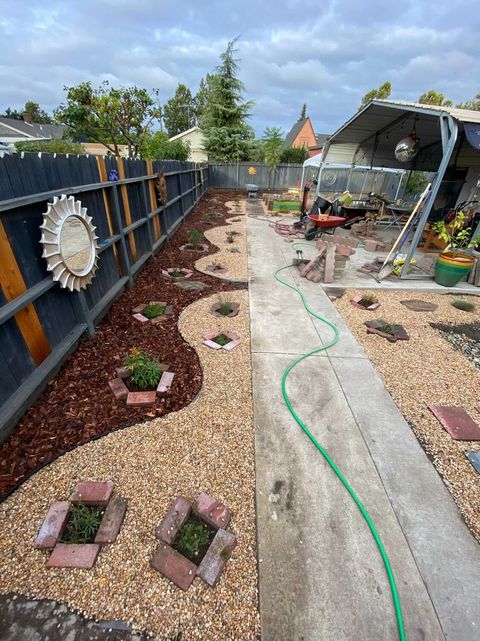 Once the preparation was completed, Ratti's backyard began coming together.
"We had all these plants delivered, and then we had pebbles and bark delivered, and so now it looks like a backyard," Ratti said. "We're not done, [but] that's what I've been doing in the evenings and on the weekends."
Ratti said he looks forward to using his house for social gatherings and events in the future. 
"Both my partner and I are really passionate about our house being [used] for events like birthdays, Halloween, all kinds of [holidays]," Ratti said. "And our landlords, of course, are super into us making all these improvements."
Apart from renovating the house for future events and parties, Ratti said he finds a special meaning in improving his personal living space.
 "[My Zodiac sign is] a cancer and so I really care about my environment," Ratti said .[It] matters a lot to me. I've lived in apartments since I was 20, so this is the first house I've lived in since then." 
Ratti said he thrives off of creativity. 
"For my brain and my little soul to be happy I need to be doing something creative," Ratti said. "I can learn and be kind of inspired by TV and movies. I do see them as art forms, but I definitely need to be doing something that makes my brain work in a creative way. Teaching is very creative to me but it's also very emotionally taxing."
This physical project proved to be not only a fun, creative outlet for Ratti, but also a useful stabilizer for his mental health, he said.
"Me just in the backyard, getting all filthy, feels old school like I've put in a good day's work," Ratti said. "I have some music playing on my little Bluetooth speaker, I'm talking to myself and I'm problem solving. So, I'm using this really important part of my brain, to not get depressed or anxious. All [of] that, is really important for my mental health."