Mustangs rewrite the record books
Boys and girls cross country varsity teams advance together to the CIF state meet for first time in school history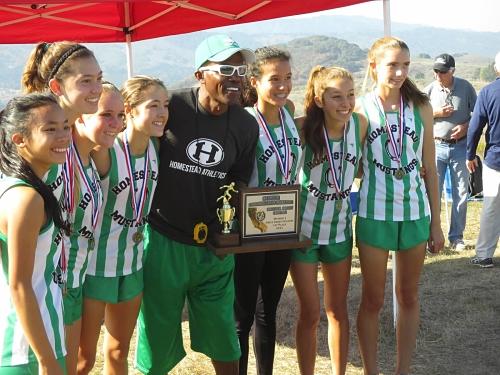 The train has left the station, and it is not going to stop. The Mustangs made it to CCS, but they are not done yet.
Both the varsity girls and varsity boys cross country teams placed high at the CCS meet on Nov. 14, placing 1st and 3rd respectively. This is the first time in school history that both boys and girls varsity teams have advanced simultaneously to the CIF State Meet, according to the HHS athletics website.
The girls varsity team won their second consecutive title, beating tough competition like the Monta Vista and Menlo-Atherton teams, according to PrepCalTrack.
The Lady Mustangs claimed the title with a low average time per runner of 19:12.33, according to PrepCalTrack.
"I think it's like what Coach Sealy said," freshman runner Katie Williams said. "You need to stay compact, it's not just one teammate, it's everyone."
The girls won CCS with 62 points, ahead of Monta Vista's 89 and Menlo-Atherton's 95, according to the HHS athletics website. Junior Lindsay Allen placed fourth overall in the meet with a time of 18:34.9, followed by freshman Katie Williams who placed sixth with a time of 18:44.2, according to PrepCalTrack.
Williams attributes her personal record time and high placing to the increased competition at CCS, which motivated her to improve upon her time at the SCVAL league meet, she said.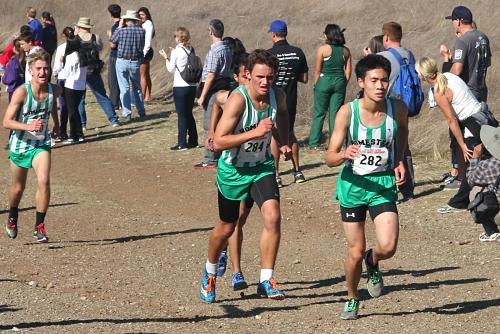 The boys varsity team followed in the footsteps of the girls team, placing third at CCS for the second time in school history according to the HHS athletics website. The team qualified for the state meet, led by senior Christopher Reed, junior Matthew Bennett and freshman Ryan Ma.
The team totaled 88 points, behind Bellarmine and Palo Alto, who scored 29 and 65 respectively.
Ma ran a freshman school record time and is the first freshman to make it to the state meet, Reed said. Ma said he attributes his success to the positive team dynamic, Coach Sealy's training and running alongside more experienced runners.
Reed finished in eighth place with a time of 15:52.2, Bennett placed 17th with a time of 16:08.4 and Ma placed 19th with a record freshman time of 16:15.0, according to PrepCalTrack.
"We really wanted to beat Bellarmine, we really wanted to get first, but it was still exciting to go to states," Reed said.
The last time the boys team went to the state meet was in 2013, Reed said. Back then, the team was mainly composed of a couple of stand-out runners, Reed said, but this year's team has a much smaller spread, or average time between runners, which constitutes a better team.
Both boys and girls varsity cross country teams will compete at the CIF state meet on Nov. 28 at Woodward Park in Fresno, according to the HHS athletics website.