Varsity boys soccer captain Sam Leistiko discusses importance of leading with strength
The final year on the HHS soccer team. Working hard while making sure others are putting their all in. This is the job of senior captain Sam Leistiko who continues working hard to make the team push to their full potential. 
Leistiko first began his soccer journey in elementary school and has been playing the sport for 11 years. Th2ere are a handful of reasons he continues playing, Leistiko said. 
"I continue to play soccer because it's a lot of fun," Leistiko said. "It's a way to hang out with some old friends and it's good exercise."
 Leistiko said he had not taken any positions of leadership before becoming team captain.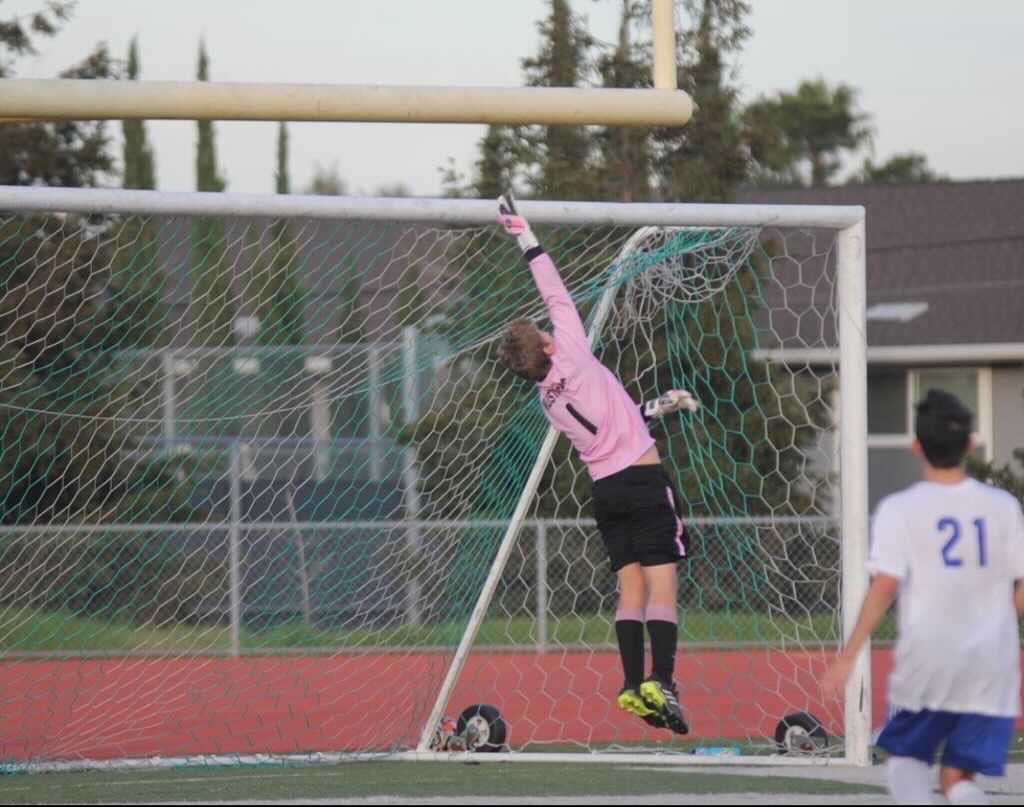 "This is my first time being a captain," Leistiko said. "As a goalie on the field [I was] always leading the team because you can see all 10 of your teammates and you're the only person on the field who can see the whole field."
Being a team captain requires the attributes of a great leader as well as the skills to work with others, Leistiko said.
"I lead a lot of warm ups, drills and practices," Leistiko said. "It's my job to keep the team on task during practices and to keep the team organized in terms of defense, strategy and tactics during games."
Leistiko said he has been continually learning how to be a proficient leader through developing skills to move the team forward.
"[I've learned] some management skills because as a leader, everybody kind of goofs off. You have to be the one to say, cut it out," Leistiko said. "That can be hard to do when the people that you're telling to cut it out are your best friends, your childhood friends, but that's something that we have to learn how to balance."
The dedication to the game he demonstrates is what makes him stand out among others on the soccer team, Leistiko said. 
"I was chosen to be the captain this year because the coach recognized that I was always working hard," Leistiko said. "I'd show up every practice and I always try to keep people on task."
While leadership capabilities are a necessity for being a captain, the main goal is always the team's success and pushing teammates towards it, Leistiko said.
"Being very loud on the field is important because you can't lead your team unless they can hear you," Leistiko said. "You must be willing to take criticism and give criticism."
The role of a captain can be difficult at times, as it can be hard to always be responsible for yourself and others on the field, Leistiko said.
"Most of the time it's good but sometimes it can be hard because there's a lot of responsibility on you [it almost feels as if] you're a coach and then sometimes that can make you feel like you're [not] a part of the team," Leistiko said.
Because soccer is a team sport, the whole team needs to buy in to winning and stay persistent, Leistiko said.
"I think perseverance [is important from what i've learned]," Lestiko said. "It's just really a concrete way of seeing your hard work." 
The valuable life lessons that come from playing soccer allows players to have a chance to self-grow, Leistiko said.
"It teaches people to stick with something to get better at it, you know even if you're not the best at it, if you love it and you love doing it and you're getting better that's what's important," Leistiko said.