Ben Platt's 'Reverie' tour is live music at its finest
Singer explores complex themes at Stanford concert
At Ben Platt's Sept. 11 concert in Stanford's Frost Amphitheatre, students looking for a good time and diehard fans in well-worn "Dear Evan Hansen" shirts crowded together for a night of heartfelt, soulful music.
The crowd was just trickling in when the concert's opening act, pop-rock duo Aly and AJ, began their performance with the first four songs from their latest album. Being able to hear these songs live gave me an entirely new perspective: I discovered an appreciation for edgier songs like "Lost Cause" and "Break Yourself," which I had previously felt did not fit the overall sound of the album. On the other hand, more melodic songs like "Slow Dancing," which had previously been my favorite, fell flat in the open-air amphitheater. 
At the beginning, the two had acknowledged that the audience might not know who they were, but said they hoped everyone would find something to enjoy in their performance. If I had not been a fan already, I definitely was by the end.
After a rousing rendition of their 2007 hit "Potential Breakup Song," the crowd waited for the main act as a series of forgettable '80s songs played in the background. Platt's music is a world away from the style of the '80s, so this choice is still baffling to me. Whatever the reason, the sonic nothingness did act as a buffer between the two acts that left me ready to hear Platt sing.
I have been in love with Platt's voice ever since I first heard the song "Waving Through A Window" from "Dear Evan Hansen," a musical which starred Platt as the titular character. Whether it is a minor role in "Pitch Perfect" or his first album "Sing To Me Instead," I know that he will imbue each new project with powerful feeling and a unique creative spirit. 
As the last notes of Platt's first song, the synth-heavy "king of the world" came through the darkness, a flood of light illuminated the stage and the crowd exploded with delight as he sang a pair of pop-focused tracks. I was glad for a change of pace when Platt told the audience he would be performing "happy to be sad," which he wrote for his boyfriend during their first time apart. In the song, he reflects on his gratitude for being in a position to miss someone, rather than feeling unmixed sadness at their absence. It is nuanced songs like this that make "Reverie" a great album.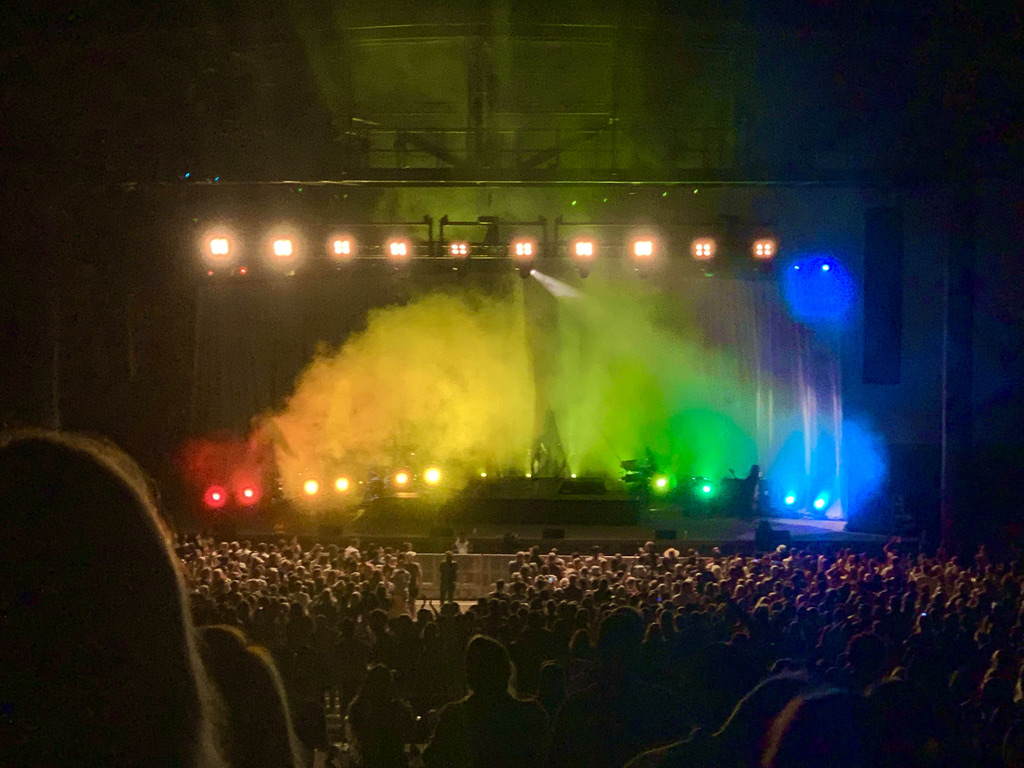 As the show progressed, Platt's engaging stage presence became more and more apparent. During songs like "RAIN," Platt danced across the stage and got the crowd up on their feet. It was really freeing to see everyone around me dancing, and I will admit to busting a dance move or two. Platt's comfort on stage should come as no surprise – after all, his home will always be on Broadway. Although I had hoped he would perform a song from "Dear Evan Hansen," I have to admit that his choice for a theater cover, "She Used To Be Mine," perfectly showcased his vocal range and versatility. Platt was in his element, and that song seemed to supercharge his stage presence for the rest of the show. 
The concert's most powerful moment was Platt's performance of "Grow As We Go," one of my favorite songs from his discography. The entire crowd sang along, and although not everyone could relate to the specific lyrics, it seemed like everyone found something in the song that they connected with very deeply. At that brief moment in time, everyone was united by their memories of growth and loss.
While "Grow As We Go" was my favorite song from the show, the one that left the biggest impression on me was his cover of Lady Gaga's "You And I." Despite it not being his song, the performance was Platt at his most authentic. With each soulful note, Platt marked this version of the song as his own, and he owned the stage as he performed, seeming completely confident in himself as he acted out the lyrics and laid down on the stage. I went home with the buzz from the audacity of that performance, and with a new sense of confidence from watching Platt dazzle the crowd with his talent and style.