Cross country competes at CCS
Members reflect on races, season as a whole
After a season of tireless perseverance, intense endurance training and countless loops around the track with teammates, 11 members of the cross country team competed at CCS league championships. Held in Crystal Springs on Nov. 12, runners completed a 2.95 mile course, with first-time cross country member Evan Gardner qualifying for states. 
"I placed ninth and I probably could have gone a little faster, but everyone had a good race, and I think that was really cool," Gardner, a sophomore, said.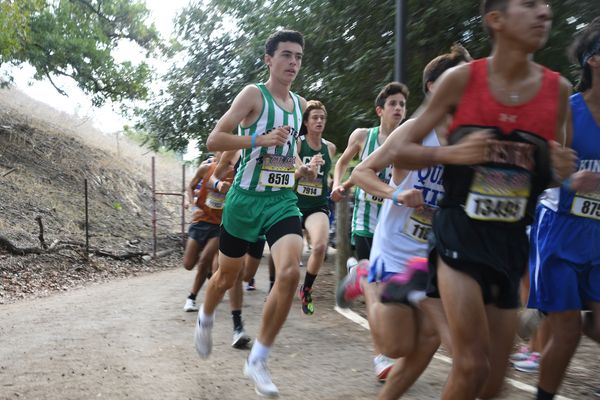 The team prepared for CCS by doing longer runs, falling between six to eight miles, and workouts involving running in shorter increments, senior Jim Ji said.
Junior Hyeyoon Song said she felt well prepared due to her familiarity with the layout of the course from previous years. This allowed her to plan ahead and anticipate which areas she would find more challenging than others.
"I prepared for the CCS meet by keeping up with our regular training and eating a lot of carbohydrates the night before," Song said. "I stayed in a good headspace [by thinking of] positive affirmations."
Song said she performed better at CCS this year than she did at finals last year, and attributed her improvement to having a better warm up routine. Like Song, Gardner said he enjoyed competing at CCS. 
"There's a lot more people than usual, so it's a better atmosphere," Gardner said. "It was more exciting, more electrifying. It was just nice to just have all our hard work come to this one race at the end of the year."
Ji said the goal for his race was to break 17 minutes. However, during the competition, he missed his target time by about 40 seconds. Reflecting on his overall season, while balancing cross country with schoolwork and college applications was challenging, the senior said he enjoyed the strong sense of community within the team.
"[Now that the season is over,] I'm going to rest up," Ji said. "After one or two weeks, I'll start practicing for track and field. Since it's my senior year, I really want to do something I'm proud of."