Board game bonding
FNHS hosts board game social for members to learn more about French culture
While entertainment is becoming increasingly digitized, the French National Honor Society decided on going a more traditional route for their first social of the year: a board game event where students can enjoy and learn more about French culture, public relations officer, senior Karina Lim said.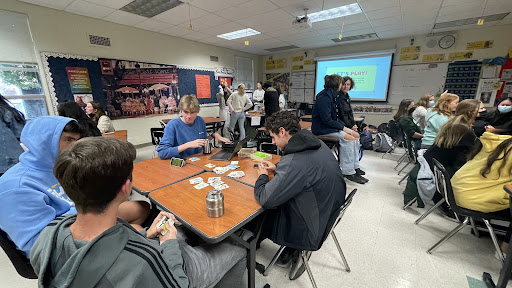 Co-president, senior Lela Hanson said she had wanted to host a social event like this for a while now, as she believes board games are a great way for members to learn more about French culture.
Another goal the club aimed to achieve through this social was for members to gain a greater appreciation for other cultures, apart from the ones they are surrounded by, Hanson said.
"We couldn't make it happen last month, but we got it to happen this month," Hanson said. "[We wanted to host this social] since games are a really good way to get insight into everyday life and we hope that the members who attended hopefully learned some new games that they might be able to introduce to their families."
However, many members also came to the event to socialize with their friends during lunch time like member Shaher Dagan. The junior said he looked forward to playing authentic French board games and joined to further learn about the culture and language.
A personal favorite traditional French game Dagan said he enjoyed was called Petanque where teams start by tossing a small ball called the cochonnet, and then take turns tossing another larger ball, with the objective of landing it near the cochonnet. Lim agreed and said it was common to sometimes see old men just playing the popular game on the streets of Southern France.
The club's officers also hoped members would form connections with fellow peers of the HHS community and have fun playing traditional French board games, Lim said.
"It's just a great way to learn more about French culture and see what [games] French [people] play," Lim said. "There are both traditional games and more recent ones. I think it's a great way for people to just have a bit of fun."